Re: Re: So, what is this worth? (Part 17)
May 4, 2011 at 12:58 am
#15120
halanb
Participant
(1) Jolie Clochette au Démon, Bronze Ciselé, XIXe
Voici une amusante sonnette de table en bronze ciselé, décor de diable, démon ou faune, oreilles pointues et cornes recourbées, chevelure ornée de pampres; profond relief, bien ciselé…
beau travail du XIXe siècle, authenticité garantie
Dimensions: 10cm x 6,5cm
État: bon, pas de défaut, battant d'origine.
Pretty Table Bell of a Demon, Bronze Carved, 19th Century
Here is a fun table bell, engraved bronze, depicting a devil, demon or animal, pointed ears and curled horns, hair adorned with vines, high relief, well crafted …
good work of the nineteenth century, authenticity guaranteed.
Dimensions: 10 cm x 6.5 cm (4 in x 2.6 in)
Condition: good, no defects, original clapper.
http://cgi.ebay.com/ws/eBayISAPI.dll?ViewItem&item=260776359371&ssPageName=STRK:MEWAX:IT
=================================================================================================
(2) ANTIQUE BRONZE ART DECO DESK BELL PUSH WITH TWO DOGS!
Unusual Little Bronze Art Deco Desk Bell Push
With two cute dogs….the one on the left has a slight bump to his nose
Otherwise in good condition but needs rewiring…to go on desk
Please see all pictures.
It measures 2″ high by 2 1/2″ across…it has '14' marked to base
Very nice and unusual collectable!
This is a desk model bell push, as opposed to the hanging types in Part 8 above.
Note that the cord exits to the rear, away from the person seated at the desk.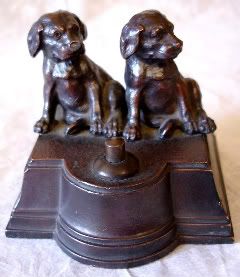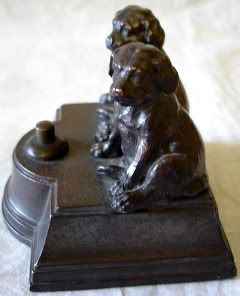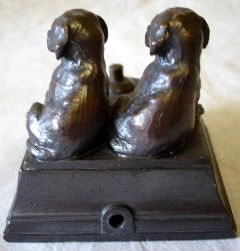 http://cgi.ebay.com/ws/eBayISAPI.dll?ViewItem&item=160577831776&ssPageName=STRK:MEWAX:IT
=================================================================================================