Re: Re: So, what is this worth? (Part 163)
April 24, 2013 at 3:25 am
#15311
halanb
Participant

163d – CLOCHE CLOCHETTE SONNETTE DE TABLE EN BRONZE XII
Petite cloche, sonnette de table en bronze représentant une dama de l'époque
En bon état. Hauteur: 10 cm. Diamètre de la base: 4 cm.
BRONZE TABLE BELL OF THE 12TH CENTURY
Small bronze table bell representing a lady of that era.
In good condition. Height: 10 cm (4 in). Diameter of the base: 4 cm (1.6 in).
I don't know where the 12th century notation came from, suspect a mis-typing.
There are two series of these bells depicting women carrying objects on their heads.
One series is rare, top quality lost wax bronze figures, well worth the price typically paid.
Another series is more often seen, lower quality sand cast brass figures.
This example is from the second series, maybe worth a third to a half the sale price.
http://www.ebay.com/itm/261194221282?ssPageName=STRK:MEWAX:IT&_trksid=p3984.m1438.l2649#ht_2799wt_874
=================================================================================================
163e – Original Art Nouveau Kayserzinn Jugendstil Pewter Bell & Cat Karl Berghof 1904
This Kayserzinn, Art Nouveau / Jugendstil pewter 'Table Call Bell' is decorated with roses and rosehips, and has a seated cat as the handle. Designed by Karl Berghof, and produced between 1904-1906.
Marked 'Kayserzinn 4610'. This mark, which is entirely genuine, is unusual in having the 's' and the 'n's' reversed. (I have not encountered this before, and there is no record of this mark in the Kayserzinn book by Gerhard Dietrich / Eckard Wagner). Offered in good condition, with no breaks or mends.
Not often encountered, this is one of only two bells made by Kayserzinn.
All the ones I have seen have the same reversed letters in the spelling.
Pewter at that time contained up to 5% lead. Over time the lead will oxydize, darken, form scale
similar to rust, and may chip off. Note the areas at lower right in the first picture, near the rim.
Items on display, and not in frequent use, are more susceptible to the scale formation.
Comparison of polished and unpolished bells.
Last picture is #4654, 7″, even harder to locate.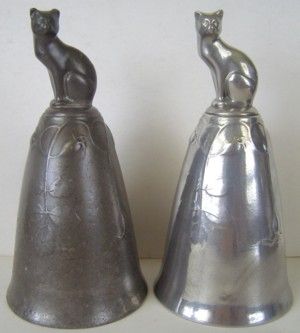 I have no problem with the sale price.
http://www.ebay.com/itm/390572349395?ssPageName=STRK:MEWAX:IT&_trksid=p3984.m1438.l2649#ht_746wt_948
=================================================================================================
163f – Belle Cloche de Conscrit, vers 1840. French 19thc Rare Bell
Superbe cloche de table, haute en couleurs, bronze doré, bouton poussoir en forme d'un jeune conscrit, cocarde et ruban au chapeau, posant sur un socle de style Louis XVI, le timbre richement verni, doré et peint de fleurs, le socle en laiton enchâssant une colonne de cristal rouge. Etonnant objet, qui date des années Charles X ou Louis Philippe. Bon état général, le timbre est très puissant, belle patine ancienne.
Beautiful Bell Conscript, 1840. French 19thc Rare Bell
Great table bell, colorful, gilded bronze pushbutton as a young conscript, rosette and ribbon hat posing on a pedestal Louis XVI style, tone richly painted, gilded and painted with flowers, the base brass embedding a column red crystal. Amazing object, which dates back to Charles X and Louis Philippe. Good condition, the sound is very powerful, beautiful patina.
I am not familiar with the term conscript.
Louis Philippe period would date it prior to 1848, somewhat too early in my opinion.
The buyer finally hit the seller's reserve price, higher than I expect it would be in USA.
More than I would care to pay, but I am not a mechanical bell fanatic as some are.
http://www.ebay.com/itm/261196159643?ssPageName=STRK:MEWAX:IT&_trksid=p3984.m1438.l2649#ht_1982wt_948
=================================================================================================