Re: Re: So, what is this worth? (Part 161)
April 6, 2013 at 9:19 pm
#15307
halanb
Participant

161a – Rare Antique brass lady bell 4″ tall (202g)
Brass Lady Bell 4″ tall and weighs 202 grams
Probably another of the early Pearson Page bells, one they called The Lady Deane in the 1925 catalog.
We have seen a similar design previously in Part 153a.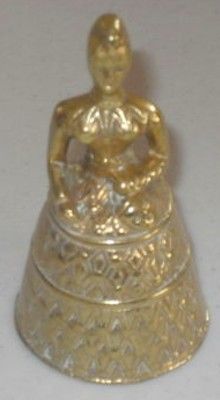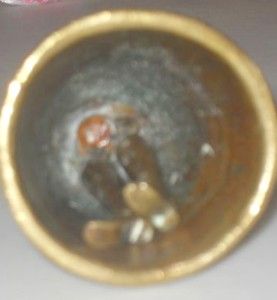 http://www.ebay.com/itm/171014365049?ssPageName=STRK:MEWAX:IT&_trksid=p3984.m1438.l2649#ht_290wt_948
Ya pays yer money and ya takes yer choice! – $357 – $169 – $9.99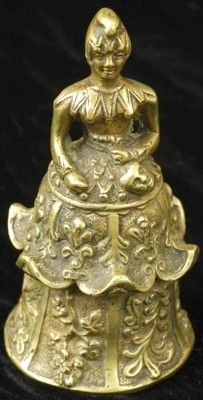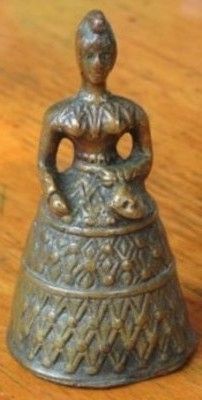 =================================================================================================
161b – Vintage Brass / Bronze Schulmerich Carillons Bell "Les Fleck"
Up for auction is a Schulmerich Carillons metal hand bell. I beilieve this is either brass or bronze, not really sure. Weighs pretty heavy for size. Stands roughly 6″ tall and 4″ diameter at the bottom of the bell. This was an estate find with other Schulmerich bells. It is marked "Les Fleck" in the center of the bell. At the bottom it is marked Schulmerich Carillons Sellersville. At the top it is marked ME FECIT~EIJSBOUTS~ASTEN~HOLLAND. Not sure of age, looks to be pretty old.
Apparently a commemorative bell for Schulmerich Carillons of Sellersville PA, best known for their musical handbells and chimes.
I do not know the meaning of "Les Fleck" or the connection between the foundries, but the top inscription shows that this was cast by Eijsbouts Foundry in Asten, Holland.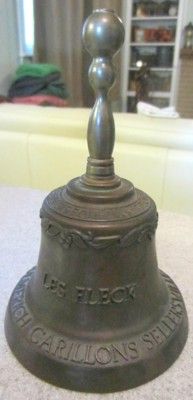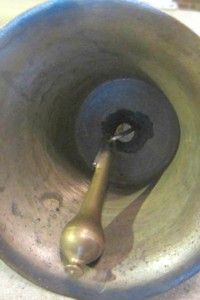 http://www.ebay.com/itm/221208026247?ssPageName=STRK:MEWAX:IT&_trksid=p3984.m1438.l2649#ht_106wt_948
=================================================================================================
161c – Emil Huddy 1979 Sacajawea and Baby #144 Bronze/brass bell
This beautiful, highly detailed bronze bell, with the figure of the Indian woman Sacajawea and baby,
was made by Emil Huddy in 1979. It is marked on the inside "Huddy 1979 Ser #144 Sacajawea".
The bell is 6 1/2″ tall and 3″ across the bottom. It has the original patina, I have not cleaned it
and it is free of any dents or damage.
One of the more common Emil Huddy bells.
Wikipedia: Sacagawea (c. 1788 – December 20, 1812) was a Lemhi Shoshone woman, who accompanied the Lewis and Clark Expedition, acting as an interpreter and guide, in their exploration of the Western United States. She traveled thousands of miles from North Dakota to the Pacific Ocean between 1804 and 1806. She has become an important part of the Lewis and Clark legend in the American public imagination. In 2000, the United States Mint issued the Sacagawea dollar coin in her honor, depicting Sacagawea and her son, Jean Baptiste Charbonneau. The face on the coin was modeled on a modern Shoshone-Bannock woman named Randy'L He-dow Teton. No contemporary image of Sacagawea exists.
Jean Baptiste Charbonneau (1805-1866) was the son of Sacagawea and her French-Canadian husband Toussaint Charbonneau, who worked as a trapper and interpreter for the Lewis and Clark Expedition; he was born while they were traveling. He was taken by his parents as an infant across the country. The Expedition co-leader William Clark and other members of the expedition nicknamed the boy Little Pomp or Pompy. He lived with Clark in St. Louis, Missouri as a boy, where he attended the St. Louis academy, run by the Jesuits. Clark paid for his education. Later he led a restless and adventurous life, and carried lifelong celebrity status as the infant who went with the explorers to the Pacific Ocean and back. When he was 18, he was befriended by a German Prince, who took him to Europe. There, Jean-Baptiste spent 6 years living among royalty while learning 4 languages and fathering a child in Germany named Anton Fries. After his infant son died, Jean-Baptiste came back from Europe in 1829 to live the life of a Western frontiersman. He became a gold miner, hotel clerk, and in 1846, he led a group of Mormons to California. While in California he became a magistrate for the San Luis Rey Mission. He did not like the way Indians were treated in the Missions and left to become a hotel clerk in Auburn, California, once the center of gold rush activity. After working 6 years in Auburn, the restless son of Sacagawea left in search of riches in the gold mines of Montana. He was 61 years old, and the trip was too much for him. He became ill with pneumonia and died in a remote area near Danner, Oregon on May 16, 1866.
The 3rd picture is from the state capitol grounds in Bismarck ND.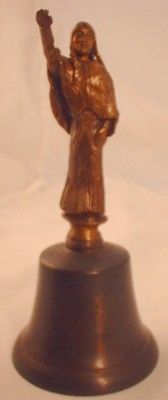 http://www.ebay.com/itm/251252633112?ssPageName=STRK:MEWAX:IT&_trksid=p3984.m1438.l2649#ht_720wt_948
=================================================================================================