Re: Re: So, what is this worth? (Part 161)
April 6, 2013 at 10:12 pm
#15308
halanb
Participant

161d – ANTIQUE GORHAM OLD FLORENTINE BELL # 049 CIRCA 1900 SUPERB CONDITION
BEAUTIFUL ANTIQUE BELL BY GORHAM 1888 – 1916 IN SILVER PLATED BRONZE IN SUPERB ORIGINAL CONDITION, SECOND PHOTO SHOWING BELL AS FOUND WITH HEAVY TARNISH, CLEANED WITH NEVER DULL COTTON AND IS BEAUTIFUL SHAPE, TINY WEAR ON HIGH SPOT'S OVERALL SUPERB ORIGINAL EVEN HAS THREE SMALL HALLMARKS AS PICTURED IN PHOTO, HANDLE IS ORIGINAL CARVED
---
WITH STRESS LINES AS PICTURED . INTERIOR OF BELL AS PICTURED MARKED " OLD FLORENTINE BELL " GORHAM CO. O49. MEASURES; 5 3/4″ HIGH.
The base is thought to have been a design by Benvenuto Cellini (1500-1571), and was used by many foundries with various handles. Gorham labeled theirs The Old Florentine, and offered it for sale for many years in late 19C and early 20C. This bell has been discussed in previous Bell Tower articles (BT Supplement Jan-Feb 1995; BT Nov-Dec 2010).
Note: the Gorham model number is 042, not 049. The lower slash on the "2" is missing. Gorham marks are often unevenly stamped, and frequently on a curved surface that can add to the problem. The handle is often said to be ivory, though I believe it is bone. There is a similar Gorham bell with a metal handle and designated model number 015.
The sale price is somewhat higher than normal, but there appear to be no defects to this bell. Gorham used heavy silver plating and there is usually no problem with the base. Sometimes the handle may be bent, broken, or have a loose attachment screw.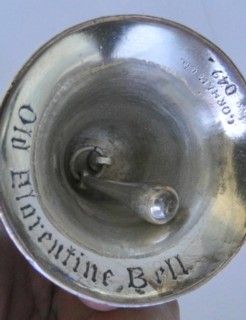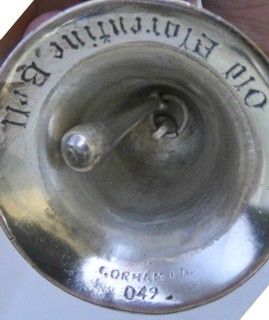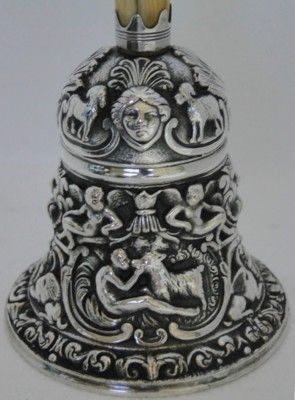 http://www.ebay.com/itm/130879800290?ssPageName=STRK:MEWAX:IT&_trksid=p3984.m1438.l2649#ht_102wt_948
=================================================================================================
161e – Ornate and Rare Gorham Silver Plate Bell Pat 044
This is a beautiful ornate and rare Gorham silver plated bell. This piece is in excellent condition.
It has the Gorham markings on the lip including the anchor and 044. It is a heavy weight.
This bell is approximately 5 in tall and 3 3/4 in wide.
One of the less common Gorham figural bells (see Springer, page 132), and the only one with an open work base. Pic 3 is the same bell, but not one of the listing pictures.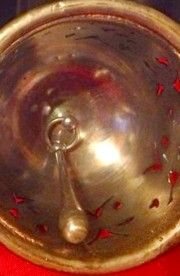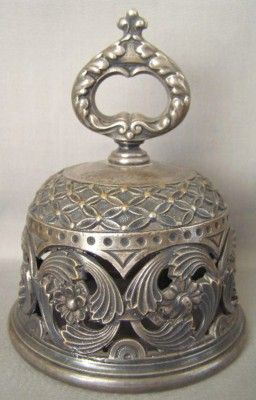 http://www.ebay.com/itm/350754934391?ssPageName=STRK:MEWAX:IT&_trksid=p3984.m1438.l2649#ht_120wt_919
=================================================================================================
161f – SONNETTE DE TABLE EN BRONZE ORIGINE RUSSE ORIENTALISTE BELL HOTEL 19EME RUSSIAN
JOLIE SONNETTE DE TABLE EN BRONZE EPOQUE 19EME ORIGINE PEUT ETRE RUSSE SONNETTE EN BON ETAT FONCTIONNE. HAUTEUR 9CM. DIAMETRE 7.5CM.
BRONZE TABLE BELL, RUSSIAN OR ORIENTAL ORIGIN, FROM THE 19TH CENTURY
PRETTY BRONZE TABLE BELL, 19TH CENTURY, PERHAPS RUSSIAN ORIGIN, IN GOOD WORKING CONDITION. HEIGHT 9 CM (3.6 IN). DIAMETER 7.5 CM (3 IN).
I doubt this is of Russian origin, probably French.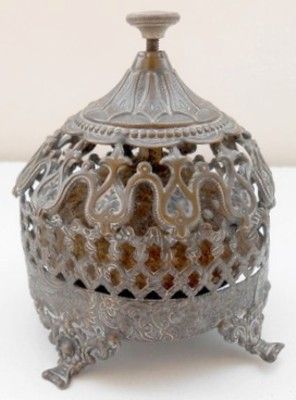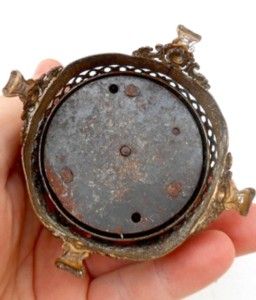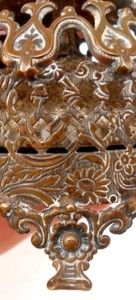 http://www.ebay.com/itm/370786746868?ssPageName=STRK:MEWAX:IT&_trksid=p3984.m1438.l2649#ht_4862wt_1370
=================================================================================================