Re: Re: So, what is this worth? (Part 160)
April 2, 2013 at 9:01 pm
#15305
halanb
Participant

160a – Antique Colonial Solid Brass Bell~Marked Colonial 1832-1928~Cast Iron Dinger
Antique Colonial Solid Brass Bell, embossed Colonial 1832 1928, cast iron dinger, measures 4.25″ height
and 4″ diameter. Solid and heavy it has a great ring! Great condition.
We have seen these Colonial bells previously. The ball clapper (Pic 3) was used on the 4″ bells, while a cross clapper was used on the 4.5″ and 5″ bells. The 4″ and 4.5″ are the most abundant sizes encountered, while
the 5″ is less seldom seen.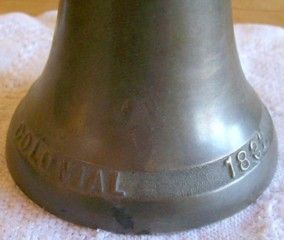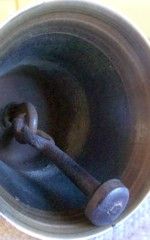 There are more sellers than buyers at this time. Asking prices are often higher, but this is in the range of what one might typically expect to pay if you watch and wait. I have seen some offered for less than $10
with no takers.
http://www.ebay.com/itm/360621895499?ssPageName=STRK:MEWAX:IT&_trksid=p3984.m1438.l2649#ht_3033wt_1114
=================================================================================================
160b – Three Leaf, Rose & Bird Pewter Bell – 1992 Seagull Canada Etain Zinn
1992 Seagull Pewter Bell
apprx 4 1/2″ tall
very good condition
Pewter bells are often relatively inexpensive. The casting details and tone are not as good as lost-wax bronze, yet can be quite good if properly designed and executed as in this example.
Ancient pewter was often 75% tin and 25% lead. By 1900 the lead content had been reduced to around 5%, as in Kayserzinn and Liberty Tudric items, yet still high enough that the lead would react with oxygen, darken, and scale would form, and sometimes chip off, the surface. Modern pewter has no lead, now an alloy of about 92% tin, 7% antimony, and a few trace additions of copper, bismuth, or silver. It will remain bright and shiny indefinitely.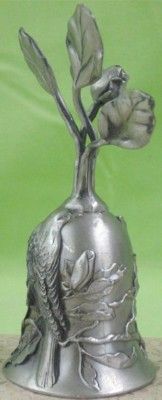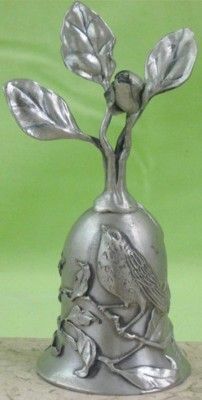 http://www.ebay.com/itm/251226121533?ssPageName=STRK:MEWAX:IT&_trksid=p3984.m1438.l2649#ht_5827wt_768
=================================================================================================
160c – Vintage Silver Lady NUN? Bell 4″ Holding Flowers Sterling Or Plate?
This is an unusual silver colored bell. I do not see a mark so do not know if it is silver plate
or sterling or just silver colored but it is tarnished so I think it is at least silver plate.
I will leave the cleaning up to the new buyer.
It is old and from a collection. 4″ tall. Heavy at 12.4 oz. Has a very nice ring.
It appears to me to be a nun with flowers in her arms.
Nice detail. The full skirt is engraved or impressed with lines and fleur de lis looking designs.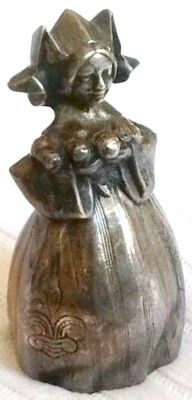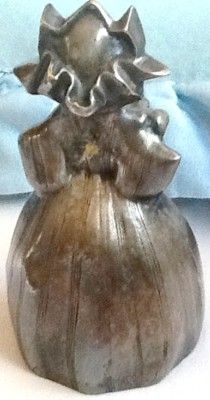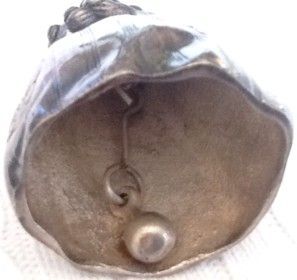 http://www.ebay.com/itm/350750308705?ssPageName=STRK:MEWAX:IT&_trksid=p3984.m1438.l2649#ht_234wt_948
=================================================================================================