Re: Re: So, what is this worth? (Part 16)
May 1, 2011 at 10:11 pm
#15095
halanb
Participant
Jolie Clochette Chien et Chiots, Bronze ciselé, XIXe
Voici une amusante sonnette de table en bronze ciselé, à belle patine, une chienne à la tête mobile allaite ses chiots, sur un coussin en forme de dôme à 4 pompons, bien ciselé. Au dessous, un battant sur dimensionné en forme de disque.
Travail Français des dernières années du XIXe, un intéressant modèle, j'ai déjà vendu 2 fois sur ebay les chats, qui sont d'un modèle plus courant!
Dimensions: 8cm x 6cm.
État: bon, pas de défaut important, un peu de réglage pour améliorer le son.
Pretty table bell, Dog and Puppies, chased bronze, 19th century
Here is a fun table bell, engraved bronze with patina, a dog suckling her pups, moving head (nodder) on a pillow-shaped dome with 4 tassels, well chiselled. Underneath, a disc-shaped clapper.
French work of late nineteenth century, an interesting model. I have twice previously sold on eBay the cat version, which is more common!
Dimensions: 8cm x 6cm (3.2 in x 2.4 in)
Condition: good, no major fault, needs a little adjustment to improve the sound.
This bell is sometimes known as "Mama Dog", a companion to the more frequently seen "Mama Cat", each with puppies or kittens. See the first two photos.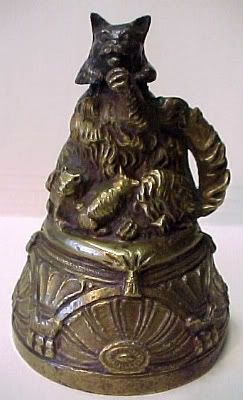 The third photo shows the rear of Mama Dog, and the fourth photo shows that it is properly rigged as a nodder with stiff shaft and counterweight.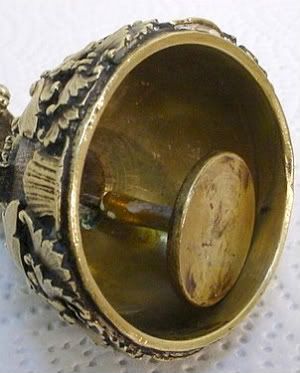 http://cgi.ebay.com/ws/eBayISAPI.dll?ViewItem&item=260773742089&ssPageName=STRK:MEWAX:IT
=================================================================================================