Re: Re: So, what is this worth? (Part 156)
March 4, 2013 at 3:54 pm
#15298
halanb
Participant

156a – Vintage Brass School Boxing Bell Gong 6 Inch Fire House Alarm Wall
Very nice vintage brass bell with pull string. The gong is very loud and has a nice ring to it. The bracket is cast iron. I have had this for about 20 years and bought in an antique shop in Roanoke VA. I do not see any markings on it. It has the original patina has not been polished. It is small (6″) bell so it can fit anywhere.
Often described as a boxing bell, the correct term is trip gong.
This is an attractive example in a smaller size, with nice original patina. Quite often there is no maker's mark attached, but most are of American origin, from a number of manufacturers, dating from perhaps 1880 onwards. Bevin is still making them.
Pics 1-3 are this auction; Pic 4 is by an unknown maker; Pic 5 is by Bevin Bros.
Pic 4 shows a central post with a protruding threaded stud. Normally the bell itself is threaded so that it will screw onto this stud. The hex acorn nut (Pics 1&3) serves as a locknut to retain it firmly in place. Note the two extension springs, one attached to the hammer lever, the other attached to a riveted tab and the activating lever. The riveted tab is the key to the mechanical action. When the activating lever is pulled down on the right side and raised in the center, the tab will lift the hammer lever. At one point, the tab will slip by to release the hammer lever, which is then pulled down by its spring to strike the bell and then return to a rest position. (See Pic 5) When the activating lever is released, its spring will return it to its own rest position.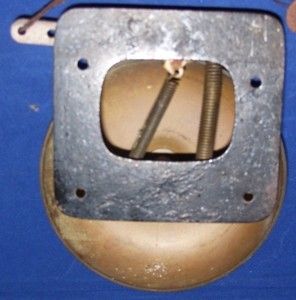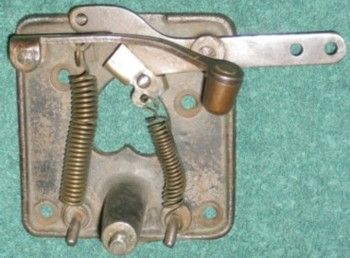 http://www.ebay.com/itm/121071973398?ssPageName=STRK:MEWAX:IT&_trksid=p3984.m1438.l2649
=================================================================================================
156b – RARE HEAVY BRASS 12″ EW VANDUZEN FIRE/BOXING ALARM BELL
Rare E.W. Vanduzen, Cincinnati, Ohio, heavy brass alarm bell. The bell measures 12″ in diameter and the brass is 1/2 thick. The bell is mounted on a beautiful solid maple wood backing board trimed in "gold" and is ready to hang. Brass bell alone weights 9 LBS without ringer and backboard. This "baby" will wake up the neighborhood!!
Five unusual things about this bell:
(1) The activating lever is pulled from the left, versus the normal pattern of pulling from the right.
(2) The assembly has an internal hammer, versus the usual external hammer.
(3) The internal parts are considerably more robust than usual.
(4) The central post is drilled and threaded, rather than having a protruding stud. A bolt and washer hold the bell in place. The current steel bolt and washer are not original, and should be replaced with brass.
(5) The bell was made by E.W. Vanduzen, which normally made larger school and church bells. Carl Zimmerman (towerbells.org) notes that the name would place it in the era from 1894 onwards.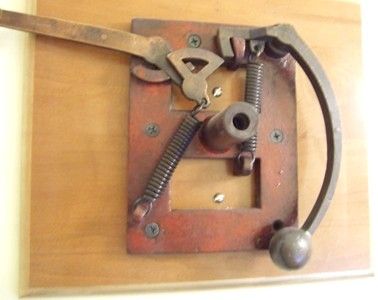 I was surprised that this rare bell did not sell at a higher price.
http://www.ebay.com/itm/251234640908?ssPageName=STRK:MEWAX:IT&_trksid=p3984.m1438.l2649
=================================================================================================
156c – ANTIQUE BOXING BELL Vintage Alarm Old FIGHT CLUB Bronze IRON GLOVES Firehouse
Overall size: nearly 44″ circumference on the bell itself
Length from edge of bell to end of striker: 17″
Weight: about 23 pounds with the backboard
Wooden backboard size: 22 1/4″ x 10″ x 3/4″ thick
Rope is not original to piece.
Height of bell at center from backboard to top of bolt: approx 7 1/2″
Diameter of bell approx 14″
Mounting holes on iron base are 3″ apart
Markings on bell mechanism can be seen in photos:
Number shown on platform: 1438 A (with flipped '8')
Number shown on pivot kicker: Appears to be B02
A more complete description and provenance is given in the listing.
This is a completely different style than the ones above. The action is strictly mechanical and without the use of springs. The bell must be mounted vertically, with the hammer at the bottom so it can be returned to its rest position by gravity.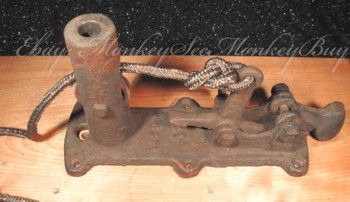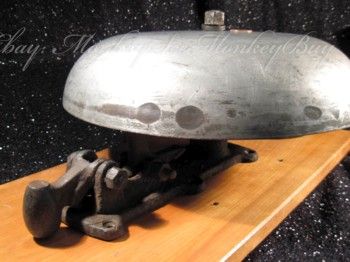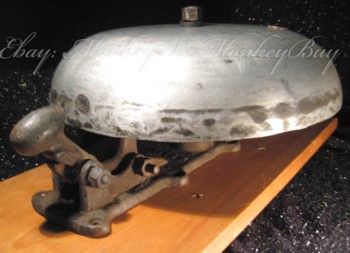 Another bell that I was surprised did not sell at a higher price.
http://www.ebay.com/itm/221192655414?ssPageName=STRK:MEWAX:IT&_trksid=p3984.m1438.l2649
=================================================================================================