Re: Re: So, what is this worth? (Part 156)
March 4, 2013 at 4:52 pm
#15299
halanb
Participant

156d – HUGE! Antique 19thC *Vanduzen & Tift* Cast Iron & Brass Gong Bell
The 5" tall by 11" diameter Brass Bell is attached to a nickel over cast iron claw-foot base,
and the overall height is 18" tall to the top of the fleur-de-lis finial.
More information is given in the listing description.
Carl Zimmerman (towerbells.org) notes that the name would date it as 1866 – 1894.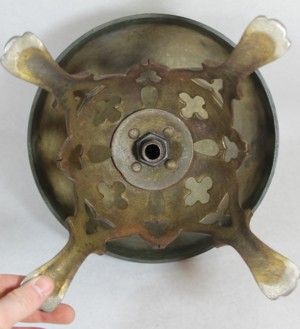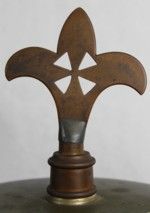 http://www.ebay.com/itm/380582147952?ssPageName=STRK:MEWAX:IT&_trksid=p3984.m1438.l2649
=================================================================================================
156e – Rare Shiebler Medallion Sterling Silver & Gold Bell
Victorian period Shiebler sterling silver bell. Medallion pattern. Handwrought.
Some aesthetic style influence in decoration.
Uncommon gold profile Hallmark on bottom of Shiebler silversmiths and "Sterling & 14K" and number "682X". 2-1/2 inches diameter and 3-1/2 inches tall. Weight is 2.77 troy ounces. Monogrammed "APL"?
Some scattered faint pin sized dings around lower body, one small crease ding about 1/2 inch.
Artfact: In 1876, George W. Shiebler founded his silvermaking firm in New York, in part through the acquisition of the Coles and Reynolds Company. He subsequently would acquire the factory of Morgans Jr. and a number of other firms. He consolidated the equipment of these firms and moved them to Brooklyn, NY to become a flatware producer using the designs of the acquired firms as well as developing his own line, "Etruscan Medallion". Schiebler was an especially productive maker of souvenir spoons that became popular with tourists in the late nineteenth century. The George W. Shiebler silver firm was dissolved in 1910.
Attractive tea bell with gold medallion. I have seen a few others by this maker, but most sold in the $150 – $200 range. I wonder if the buyer is more of a silver collector than a bell collector?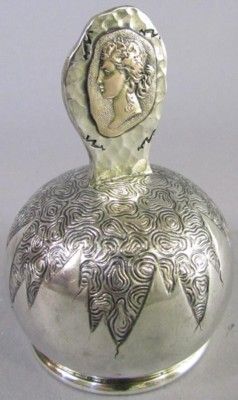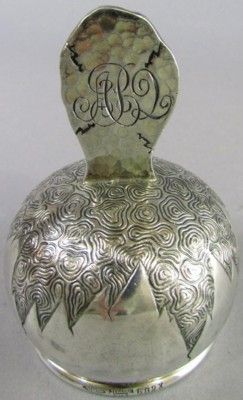 http://www.ebay.com/itm/350719615370?ssPageName=STRK:MEWAX:IT&_trksid=p3984.m1438.l2649
=================================================================================================
156f – Vintage Figural Pig or Sow Silvered Bronze Desk Bell C-1880-1900
Rare figural bell in the shape of a large pig or sow. The pig has glass eyes.
He rings by pushing down his nose or his tail. The winder is in good working order as is the bell.
This pig measures 7-1/2″ long and stands 3″ tall. The piece is vintage, C-1880-1900.
Most often these types of bells were used in hotels at the concierge desk or sometimes on a desk at home. This pig bell is quite rare and in good order.
We have seen this mechanical bell previously, some like this one in silver plate, others in bronze.
Said to be, and seems to be, in proper working condition.
I have to wonder just how large the market is today for these bells. Yes, they are rare, but several appear each year so anyone who wants one is able to acquire one. Several more are perpetually listed at prices that nobody will touch. Had this been a non-reserve auction, it probably would have sold in the $650 range. A single buyer kept probing and offering higher bids until the reserve was reached.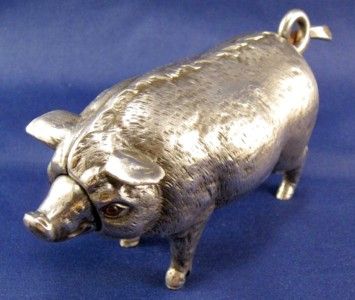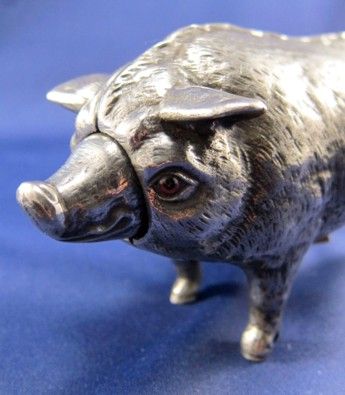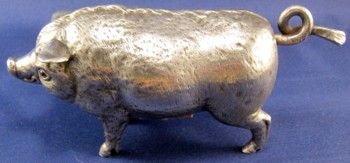 http://www.ebay.com/itm/281070048058?ssPageName=STRK:MEWAX:IT&_trksid=p3984.m1438.l2649
=================================================================================================