Re: Re: So, what is this worth? (Part 151)
February 4, 2013 at 4:27 pm
#15292
halanb
Participant
151a – Bronze hand bell, decorated in relief with figures
This is a solid bronze hand bell, with a very good patina, decorated in relief with figures – birds (possibly swans), stylised heads and architectural detail. No idea of age.
Perfect condition other than the fact that the original clapper has been replaced, (I assume), by a small steel clapper attached by a plastic thread. Slight rough place to underside of rim, but this does not appear to be damage. Height is 13 cms (5.2 in).
Clapper is a replacement, as possibly is the handle, but the base is the most interesting part. Typical lost wax bronze figural, with a three panel repeat, relatively high relief, c.1900. Bells like this often slip by almost unnoticed, but the quality is better than 99% of their eBay companions.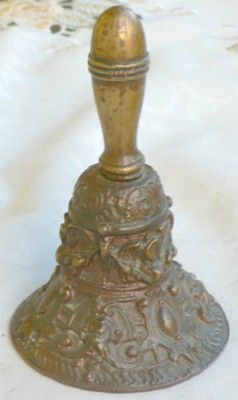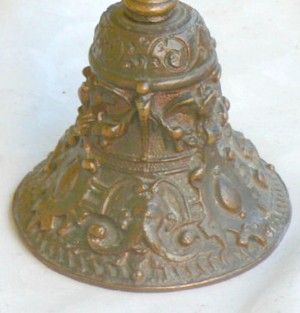 http://www.ebay.com/itm/310579092312?ssPageName=STRK:MEWAX:IT&_trksid=p3984.m1438.l2649
=================================================================================================
151b – Antique 1900 Cast Iron Figural Devil or Brownie Desk Bell
An antique Victorian desk bell, patent date of July 9 1900 underneath, a brownie or devil, figural piece, you push the little forked tail to activate the bell, this winds by twisting the bell itself, the clockwork mechanism works reluctantly when it is wound and the bell unscrewed, the spring is intact and everything is present and the mechanism does work- I think it probably just needs an oiling- in any case sold as found might need some monkeying, surface is tarnished/ patinated- see pics- no cracks or breaks.
American version of the more expensive bronze French door/alarm bell. Activated by pressing either the tail or the pointed "tongue". Theory is that you lean it against the door of your hotel room, and the bell will sound if the door is opened.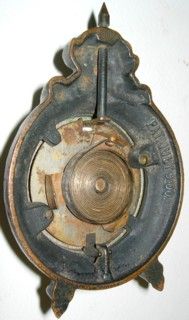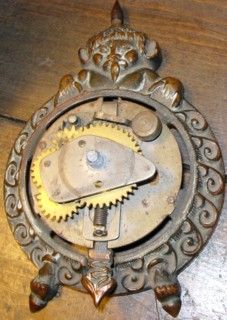 http://www.ebay.com/itm/170980487123?ssPageName=STRK:MEWAX:IT&_trksid=p3984.m1438.l2649
=================================================================================================
151c – Antique Victorian Art Nouveau French Bronze Figural Table Bell Marble Base
This is a really nice piece, a lovely bronze highly ornate, detailed table bell with a marble base. The condition appears to be very good, it has a crack in one of the balls (pic. 6), which does not attract attention at all, I only mention it for full disclosure purposes. It features a lovely swirling vines design, we believe all of the swirls to be as they should, however, some could possibly be bends, no weak spots. The construction is very sturdy and the bell resonates quite loudly in a pleasing tone. It is heavy at about 12 oz., it measures 3.5″ tall, the oval base measures 3 1/8″ x 4.25″.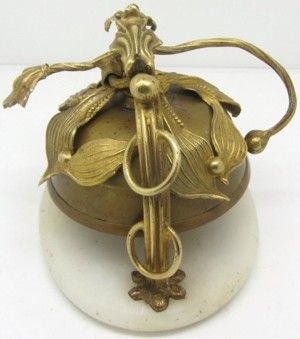 http://www.ebay.com/itm/140909755073?ssPageName=STRK:MEWAX:IT&_trksid=p3984.m1438.l2649
=================================================================================================