Re: Re: So, what is this worth? (Part 151)
February 4, 2013 at 4:54 pm
#15293
halanb
Participant
151d – SCARCE VICTORIAN DOUBLE END PRESS DESK-TOP RECEPTION BRASS BELL, c 1880-1900.
A VERY UNUSUAL DOUBLE END PRESS BELL.
FITTED TO A SOLID OAK BASE & STANDING ON FOUR ROUND FEET.
ONE OF THE FEET HAS BEEN REPLACED AT SOMETIME IN ITS LONG WORKING LIFE, ALTHOUGH AT FIRST GLANCE IS NOT NOTICEABLE.
BOTH SIDES HAVE TWISTED BRASS FITTINGS HOLDING THE END FITTINGS IN PLACE, ALONG WITH THE CENTER SCREW FITTING THAT HOLDS THE DOUBLE BELL IN PLACE.
BY PRESSING EITHER BRASS STRIKER, THE CLANGER HITS THE BELLS.
APART FROM THE FOOT, THE PIECE IS IN ITS ORIGINAL CONDITION, FREE FROM ANY REPAIRS.
THE BASE MEASURING 6″ x 3 1/2″, STANDING 5 1/2″ TO THE TOP OF ITS SOLID DECORATIVE FINIAL.
http://www.ebay.com/itm/160956180418?ssPageName=STRK:MEWAX:IT&_trksid=p3984.m1438.l2649
=================================================================================================
151e – Bronzeskulptur, Glocke
Alte Bronzeskulptur in Glockenform
Rufende Frau, Akt.
Künstlersignatur " Rubin "
Höhe: 16 cm
Gewicht: ca 500 g
Bronze sculpture, bell
Ancient bronze sculpture, bell shape
Woman calling
Artist's signature "Rubin"
Height: 16 cm (6.4 in)
Weight: about 500 g (1.1 lb)
Auguste Eugène Rubin, 1841 – 1909, French sculptor, buried in Cimetière de Montparnasse, Paris.
Art Nouveau figurine lady bell, c.1900, by a listed sculptor. Sometimes found in plain bronze, often with applied color like this one. The color may either be a chemical patina or cold-painted polychrome paint.
Seldom encountered, and highly collectable.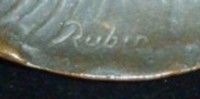 http://www.ebay.com/itm/261161442582?ssPageName=STRK:MEWAX:IT&_trksid=p3984.m1438.l2649
=================================================================================================
151f – Antique Edwardian Tortoise Turtle Counter Hotel Bell
This is in good antique condition.The bell works nicely and rings when the head or the tail is pressed.
The shell is set so it rings when it is touched also.
The shell is "faux tortoise shell" there's a couple of very minor unseen chips to the underside.
Around 14 cm (5.6 in) nose to tail.
Edwardian would date it to the period 1901 – 1910.
The date may be roughly correct, yet, while not too much is known about the origin of these bells, most people think they were made in Germany. Some of the shells were reproduced in celluloid or bakelite, and the seller lists it as faux tortoise shell. Here is what a friend, a Biology Professor specializing in turtles, had to say about that:
There is nothing "faux" about the shell on this bell. It's the shell of a Greek tortoise (Testudo graeca) – a smallish species found all the way around the Mediterranean, in Southern Europe, Asia Minor, and Northern Africa. That's why the shell is slightly oversized on this one; I have seen a couple in which the shell is undersized, too. The photo of the bell's underside shows where the bridge (the part of the shell that conjoins top shell and bottom shell) was cleanly cut with a blade. In the late 1800's, factories wouldn't have likely used a bleaching substance, which is why the underside of the shell looks dirty. The shell is joined to the cast iron base by the same specialized screw anchors used in the abalone-shelled versions.
I'm guessing the "faux" was included perhaps because someone either can't recognize that there is NO way such realistic looking material could even be produced today (let alone over a hundred years ago), or because the seller is concerned over the fact that all tortoise species (genus Testudo or otherwise) on earth are listed CITES (Control on International Trade in Threatened and Endangered Species and Natural Resources) Appendix II, which means quite a bit of federal paperwork on both ends would be required for export/import.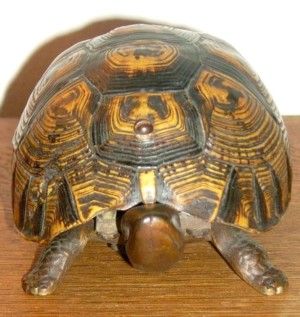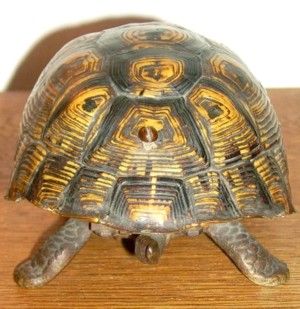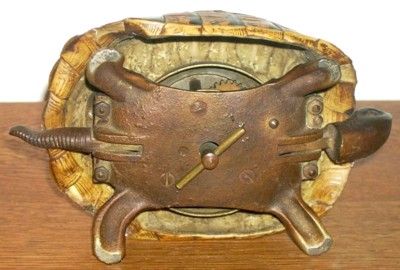 http://www.ebay.com/itm/111004650983?ssPageName=STRK:MEWAX:IT&_trksid=p3984.m1438.l2649
=================================================================================================