Re: Re: So, what is this worth? (Part 150 & Addendum)
January 29, 2013 at 2:46 am
#15291
halanb
Participant

=================================================================================================
Addendum to Part 150
=================================================================================================
150a – MAGNIFIQUE CLOCHE , BELL , DATEE 1829
As noted above, I was unsure of the translation of the inscriptions
in the two bands, and only one picture was provided by the seller.
The following is from Benedictine monk and noted Latin scholar Timothy Horner OSB.
Upper band:
VOX.DOMINI.IN.VIRTVTE.VOX.DOMINI.IN.MAGNIFICIENTIA.IN.HONOREM.B.V.M.ET.S.IVSTI.M.
My partial translation was essentially correct, and should read in full:
Voice of the Lord in Power, Voice of the Lord in Majesty,
In Honor of the Blessed Virgin Mary and Saint Justus, Martyr
Lower band:
IOVANNE.PETRO.BVZZI.VRBIS.PRAESIDE.AERE.CIVICO.A.CANCIANO.ET.PHILIPPO
FRATIBUS.BALLA.VENEZIA.REFVSA.ANNO.MDCCCXXIX
Fr Timothy notes there are several problems with the lower band, with misspellings
either in the inscriptions on the bell or in the transcriptions provided by the seller.
Making what seem like rational substitutions for the misspellings, his suggestion is:
When John Peter Buzzi was president of the city, the Ballroom of Venice was
restored at public expense by the brothers Canciano and Philip in the year 1829.
Fr Timothy further suggests that the Palazzo Labia may have been the location of the ballroom.
My opinion therefore is that this bell may have been made as a commemorative gift to civic leaders
or donors who were involved with the event. As such, there would only have been a small number
cast and would be quite rare now 180 years later.
=================================================================================================
150b – Unusual Antique Victorian Mechanical Desk Bell
Some friends, long-time and experienced collectors, have sent a picture of a similar bell.
Their comments: It could perhaps have had a 12-sided inkstand on top
or a round one would fit not badly. See Pic1 for a similar octagonal one.
The bronze top has raised lettering, "ANTI BLOTTING INK STAND REGISTERED MARCH 21, 1853".
Two flaps open when you push the pen in and close automatically
after you pull out the pen loaded with ink.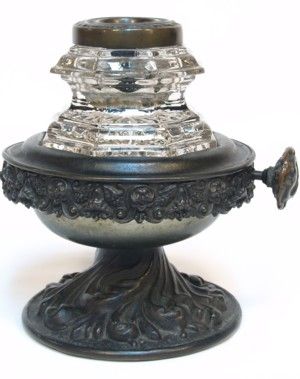 =================================================================================================