Re: Re: So, what is this worth? (Part 14b)
April 23, 2011 at 4:45 am
#15118
halanb
Participant
As I was saying before I was so rudely interrupted, first by the goofy max 3 URL limit, and then when the ABA website crashed momentarily (not the first time by any means), this is a continuation of high quality bells offered in April 2011.
=================================================================================================
Antique Vienna Bronze Polychrome Figural Bell c1860
Up for your consideration is an Antique Vienna Bronze Polychromed Figural Bell, front of bell is marked with a M & M, figure of a man in a very ornately decorated pointed hat and long gown, designs on bottom edge of gown and on sleeves are snakes, same snake design on pointed cap also. We are estimating this to be from around the 1860's but it could be earlier.
Do not know who or what this is supposed to symbolize? Anybody know?
Heavy elongated brass clapper, no makers marks other then the M & M on the front.
Dimensions: 5 1/4 inches tall, bottom opening is 2 inches in diameter. Weight 7 ozs.
There is paint loss as you can see to the face from normal handling over the 100 + years, there is some paint loss in other areas also, with most of the gilding on the bottom half still intact.
No breaks, cracks or signs of repairs.
This bell is similar to those in Parts 9 and 11 above, made about the same time and possibly by the same foundry, but is from a different series. It is not a nodder but easily could have been one. The question is who or what does it represent? A perhaps simplistic answer is that it sort of looks like a magician, there is an "M" on the skirt, so it must be Merlin. A more convincing assertion, to me at least, is that, because of stylistic considerations, it represents a Zoroastrian priest, a follower of Ahura Mazda. (Seller says 1860 or earlier. I would date it as 1880 or later.)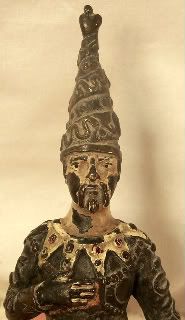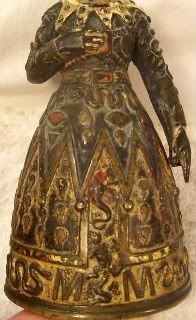 http://cgi.ebay.com/ws/eBayISAPI.dll?ViewItem&item=370501924545&ssPageName=STRK:MEWAX:IT
=================================================================================================
Bronze Punch Figural Bell Punch & Judy Belgium c1880
Up for your consideration is an Antique Bronze Punch (of Punch & Judy fame) Figural Bell, bell is marked made in Belgium on the bottom rim. Some letter markings on side OLPOS? Dimensions: 4 1/8 inches tall, 2 inches wide at bottom, weight 8 ozs., some light rust on the clapper. No cracks or breaks, no signs of repairs.
I include this item only because it is one of the standard Punch bell designs (some have different caps), not a particularly good copy, should more properly be classed as a figurine bell, probably made well after 1880, but will serve as an introduction to the following bell.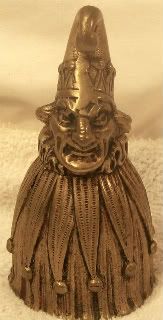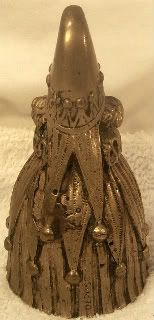 In order to save a precious URL, I will tell you that it sold for $40, a rather high price for a low quality bell.
Antique Bronze Punch Figural Bell Punch & Judy c1880
Up for your consideration is an Antique Bronze Figural Bell, Top of handle has a Punch figure head or a Minstrel figure head. Decorated with bells and floral motifs. c1880's. No makers marks that I can find,
Dimensions: 4 5/8 inches tall, 2 3/4 inches wide at bottom, weight 5 ozs. the metal rod and clapper look a bit rusty, but still solid. No cracks or breaks, no signs of repairs.
Now this one is "the real deal", as it were, a very unusual Punch figural bell. Always look at the interior of a bell if possible. Any care taken in a seldom seen area indicates a higher quality throughout.
If this were mine, I would first wash it and then apply a light coat of paste wax or mineral oil to bring out the sheen of the bronze. Any metal bells will benefit from the same treatment. I use "Renaissance" brand, a micro-crystalline wax polish that will not yellow over time as most household paste waxes will. Expensive, but it goes a long way on something the size of table bells.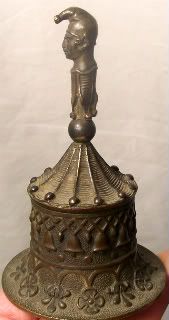 http://cgi.ebay.com/ws/eBayISAPI.dll?ViewItem&item=370501925784&ssPageName=STRK:MEWAX:IT
=================================================================================================
VERY UNIQUE ANTIQUE OR VINTAGE BRASS HAND SCHOOL BELL
ANTIQUE BRASS SCHOOL HAND BELL IN VERY GOOD CONDITION. I AM NOT SURE IF IT IS A SCHOOL BELL BUT DOES SOUND THE SAME. THE DIMENSIONS ARE 8 1/2 INCHES LONG, THE BELLS ARE ABOUT 4 INCHES IN DIAMETER. HANDLE IS WOOD.
This is often called a Muffin bell because of its shape, or sometimes a Fire Alarm bell. It is based on a patent issued to Ezra Cone in 1868 and made by the Gong Bell Mfg. Co. He described it as a (double-chiming) call bell, and his patent application read:
" Be it known that I, Ezra G. Cone, of East Hampton, in the county of Middlesex, and State of Connecticut, have invented a new and improved Bell; and I do hereby declare that the following is a full, clear, and exact description thereof, reference being had to the accompanying drawings. My invention consists in the combination, with a suitable handle, of two gong-shaped or open-mouthed bells, provided with a suitable clapper or clappers, whereby I am enabled to produce a bell, for calling persons to their meals, having a more melodious sound than bells for the same purpose heretofore constructed."…
The bells were made in various diameters, but 4" is a common size.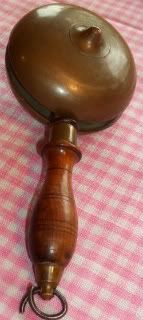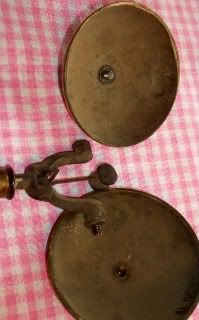 http://cgi.ebay.com/ws/eBayISAPI.dll?ViewItem&item=180653118808&ssPageName=STRK:MEWAX:IT
=================================================================================================