Re: Re: So, what is this worth? (Part 14a)
April 23, 2011 at 3:44 am
#15117
halanb
Participant
Seek and Ye Shall Find – Many of the bells offered for sale on eBay are not worth having, but a few good ones will always pop up, and quality beats quantity every time. This is a selection of high quality table bells offered so far in April 2011.
=================================================================================================
Antique Bronze Spanish Woman Form Bell Carved Bone Face
Antique Bronze Spanish Woman Form Bell with Carved Bone Face. Circa 1890. 4 1/4″ tall. Later clapper. Nice sound.
Sellers are not allowed to use the term "ivory" on eBay these days. Some use "faux ivory", "ivorine", or "bone", sometimes (not in this case) give an implied wink and a nod, but the buyer must judge what it really is. Some clues may be obtained from the appearance of the bronze bell, whether it is similar to ones known to have ivory faces. Many of these were made around 1880-1900, when ivory was plentiful and inexpensive in Europe, and Art Nouveau and then Art Deco sculptors were almost begged to use it.
However, relatively few ivory face ladies are found and they always sell for high prices. This bell also sold for a high price, though not out of line with the market. In the absence of other information, it would be wise to assume (or hope) that the buyer knew what s/he was doing.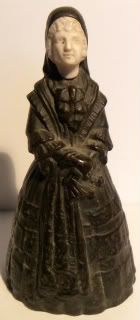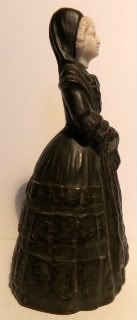 http://cgi.ebay.com/ws/eBayISAPI.dll?ViewItem&item=370496354466
=================================================================================================
Rare SONNETTE Table Sel Poivre BUSSANG Porcelaine XIXe
Rare SONNETTE DE TABLE datant du XIXème siècle
Poivre et sel. En porcelaine.
Bon état de conservation.
Petit éclat en bordure. Couvercle absent ?
Hauteur 14 cm, largeur 12,5 cm, poids 550 grammes.
Rare table bell Salt Pepper BUSSANG Porcelain 19th Century
Rare table bell dating from the 19th Century.
Pepper and salt. Made of porcelain.
Good state of conservation.
Small chip in the rim. Missing the cover?
Height 14 cm (5.6 in), width 12.5 cm (5 in), weight 550 gm.
This is a giveaway advertising item from BUSSANG, an iron-rich sparkling mineral water from Eastern France. The company was in business from 1650-1983. It is a combination salt seller, pepper seller, and mustard pot, with a flick bell concealed in the base. It should have a cover with spoon for mustard in the top container (see 3rd picture), and might have sold at a higher price if it were complete. It was probably made around 1925, not in the 19th Century as the seller claims.
Note that was from a pre-FDA, pre-PC period, nothing very dainty about its usage. If you want salt or pepper, reach in the side compartments, take a pinch between thumb and forefinger, and sprinkle it on your food. The mineral water was pitched to anemics (the old Geritol "iron-poor blood" crowd). The slogan "BUSSANG = SANG BU" translates to "BUSSANG = STRONG BLOOD".
Similar items, sometimes found as ashtrays, toothpick holders, or match holders, were also distributed by liquor companies, e.g. Pernod. Those featuring absinth brands often sell for the highest prices. I have never seen them offered anywhere but on French eBay. Buyers usually seem to be people who collect advertising memorabilia, not bells.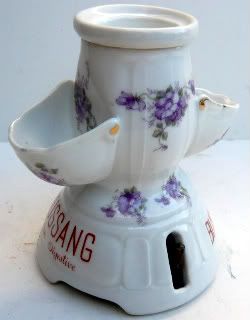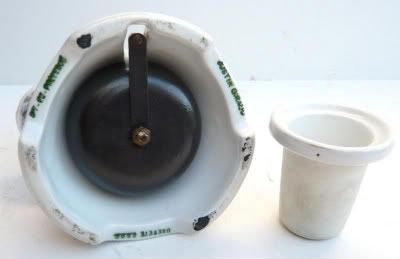 http://cgi.ebay.com/ws/eBayISAPI.dll?ViewItem&item=250802124526&ssPageName=STRK:MEWAX:IT
=================================================================================================
Good 19th C Grand Tour Figural Bronze Table Bell
This is a superb Grand Tour bronze table bell, dating from the second half of the 19th century. Beautifully cast to the body with lion and human masks, and two child figures sat on the top. The little girl is crying, the boy holding her arm. The flared section of the bell is cast with scrolls and flowers. It stands 17cm high and is obviously heavy being cast from bronze. The handle is slightly bent, easily corrected, otherwise condition is very good with a superb colour.
This, to me, is the highlight of the group, just an almost perfect figural bronze table bell. The pictures speak for themselves.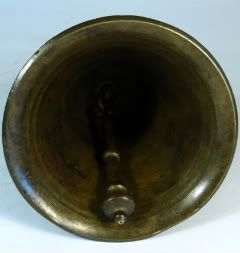 http://cgi.ebay.com/ws/eBayISAPI.dll?ViewItem&item=360359791664&ssPageName=STRK:MEWAX:IT
=================================================================================================