Re: Re: So, what is this worth? (Part 148)
January 18, 2013 at 3:38 pm
#15190
halanb
Participant
148d – Ancien Timbre clochette XIXème portrait miniature "Vierge noire" – religion
Portrait miniature d'une Vierge noire à l'enfant dans un cadre en laiton découpé et embouti, surmonté d'une croix et flanqué de deux feuilles de vigne.
Clochette bronze à l'arrière actionnée par un marteau à ressort sur le coté droit.
Le socle est en marbre blanc et gravé sur le bord avant: "Souvenir de Notre-Dame de Liesse"
Dimensions du portrait miniature: 3,5 x 4,5 cm environ
Hauteur de l'objet : 11 cm
Socle diamètre 8 cm.
Antique 19C bell with a portrait of a miniature "Black Madonna" – religion
Miniature portrait of a Black Madonna with Child in a carved and stamped brass,
with a cross flanked by two vine leaves.
Bronze bell at the rear actuated by a spring hammer on the right side.
The base is made ​​of white marble and engraved on the edge: "Souvenir de Notre-Dame de Liesse"
Dimensions of the portrait miniature 3.5 x 4.5 cm (1.4 in x 1.8 in)
Object height: 11 cm (4.4 in)
Base diameter of 8 cm (3.2 in)
Wikipedia: A Black Madonna or Black Virgin is a statue or painting of Mary in which she is depicted with dark skin, especially those created in Europe in the medieval period or earlier. In this specialized sense "Black Madonna" does not refer to images of the Virgin Mary portrayed as specifically ethnically black, which are popular in Africa and areas with large black populations, such as Brazil and the United States, but rather refers to all portrayals of the Virgin Mary with dark skin that were created during this time period.
The Black Madonnas are generally found in Catholic areas. The statues are mostly wooden but occasionally stone, often painted and up to 75 cm tall, generally dating from between the 11th and 15th centuries. They fall into two main groups: free-standing upright figures and seated figures on a throne. The pictures are usually icons which are Byzantine in style, often made in 13th or 14th century Italy. There are about 450–500 Black Madonnas in Europe, depending on how they are classified. There are at least 180 Vierges Noires in France, and there are hundreds of non-medieval copies as well. Some are in museums, but most are in churches or shrines and are venerated by devotees. A few are associated with miracles and attract substantial numbers of pilgrims.
The best known is probably the Black Madonna of Częstochowa, a revered icon of the Virgin Mary housed at the Jasna Góra Monastery in Częstochowa, Poland.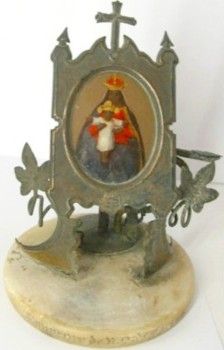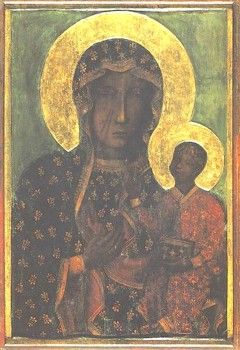 http://www.ebay.com/itm/321053506611?ssPageName=STRK:MEWAX:IT&_trksid=p3984.m1438.l2649
=================================================================================================
148e – HOTEL/STORE DESK BELL RINGER – "CHICAGO" ON PIG & MAP- POSSIBLY WORLDS FAIR 1933
UP FOR AUCTION IS A DESK BELL RINGER. IT HAS SEVERAL AREAS OF INTEREST THAT ALLOW IT TO BE ENJOYED BY MANY. FIRSTLY, IT IS A VERY FINE BELL RINGER FOR A FRONT DESK OR STORE COUNTER. LOVELY PATINA AND CRAZING OF THE GOLD TONES. SECONDLY, IT IS INSCRIBED ON THE BELL HOUSING WITH A MAP OF THE TOP HALF OF THE HEMISPHERE WHICH SHOULD BE EVERYTHING NORTH OF THE EQUATOR. ON THE FRONT IS A GOOD LIKENESS OF THE CONTINENTAL UNITED STATES WITH THE WORD "CHICAGO" ETCHED IN OVER THE PLAIN STATES, GEOGRAPHICALLY CLOSE TO THE GREAT LAKES. THE BACK SIDE OF THE BELL, WHICH SHOULD BE EUROPE, ASIA, RUSSIA ETC.. NOT SO MUCH! AND THIRDLY, THIS MAY HAVE HAD SIGNIFICANT TIES WITH THE WORLDS FAIR IN CHICAGO 1933. I CAN'T PROVE THAT YET, BUT WILL KEEP TRYING. THE BELL IS 3.5 INCHES ACROSS AND 2.5 INCHES HIGH. AS I SAID ALL PARTS ARE WORKING AND PRODUCING A ROUSING "BERRRRRING". THE PATENT DATE OF JUNE 21, 1887 PUTS THIS BELL BACK AWAYS IN THE CENTURY.
I doubt this bell was associated with the 1933 Century of Progress World's Fair.
I think it far more likely a souvenir from the 1893 Columbian Exposition.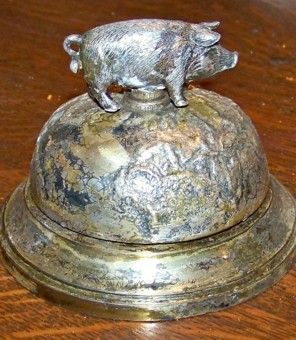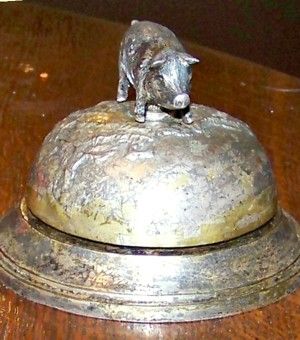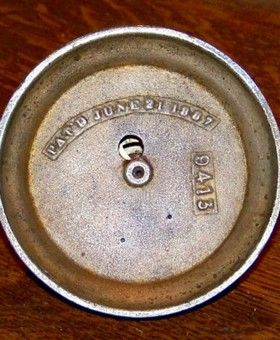 http://www.ebay.com/itm/150978236331?ssPageName=STRK:MEWAX:IT&_trksid=p3984.m1438.l2649
=================================================================================================
148f – Four African Bells
These were offered as a group at Susanin's Auction House in Auction 117, Lot 2253, on 12 Jan 2013.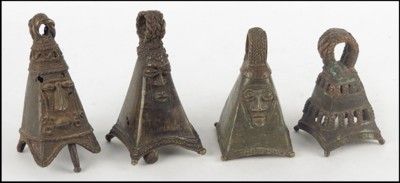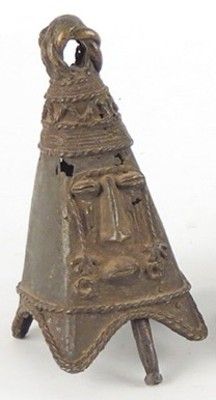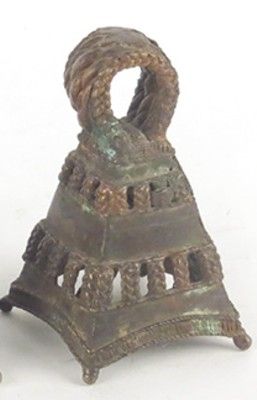 http://www.susanins.com/
From the home page, search Results for Auction 117, Lot 2253.
The sale price does not include the 25% buyer's premium nor the third-party shipping cost.
=================================================================================================