Re: Re: So, what is this worth? (Part 147)
January 12, 2013 at 12:37 am
#15286
halanb
Participant
147a – Older Vintage Cast Bronze Paolo Soleri Wind Bell
This is one of Paolo Soleri's smaller wind bells.
There is no Cosanti mark on this cast bronze bell, but there is no mistaking its maker.
The clapper is mounted on the outside of the bell, and has a sweet sound.
The fin at the bottom which catches the wind is made out of wood,probably native to Arizona.
This type of bell is now known as a "Cause Bell", because the piece above the bell is in the shape of some charitable cause, i.e.save the whales, etc.
The total length from the top of the chain to the bottom of the fin is 21.5 inches.
The length from the kidney bean shaped metal above the bell to the bottom of the fin is approx. 10 inches.
The bell is approx. 3 inches tall and 2.5 inches across.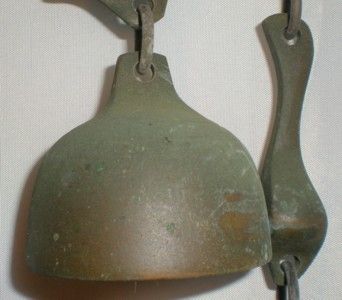 http://www.ebay.com/itm/170969473391?ssPageName=STRK:MEWAX:IT&_trksid=p3984.m1438.l2649
=================================================================================================
147b – RARE Antique 19th C. European Mother Hubbard Bronze Nodder Bell
Description : The bronze bell is quite rare and of very nice quality.
The bell is a nodder type and features Mother Hubbard.
The bell retains a wonderful original patina and the overall condition is very fine.
Age: 19th C
Size: 4 1/2″ tall
Condition: Overall very Good Condition.
Another Mother Hubbard, the most often found of the antique nodders.
Properly rigged with a stiff shaft and counterweight but, as I've said previously,
most of these are improperly balanced with the center of gravity of the head not
correctly positioned directly above the shaft so the nodding action is quickly damped.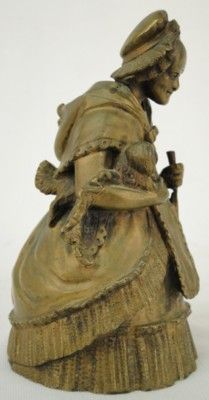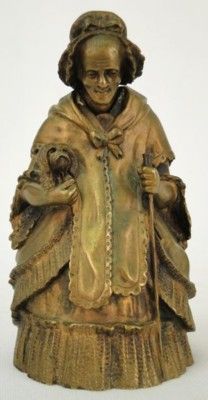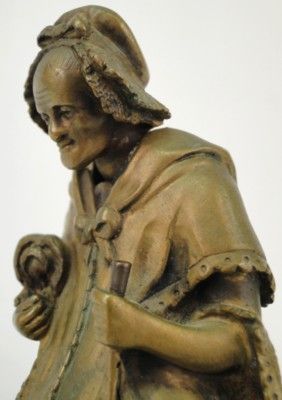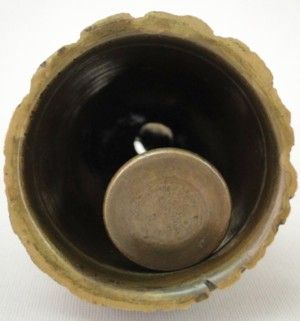 Sold in the normal price range.
http://www.ebay.com/itm/390520713596?ssPageName=STRK:MEWAX:IT&_trksid=p3984.m1438.l2649
=================================================================================================
147c – Sonnette de table en bronze 19ème,champagne,décor au diable,musée de Motiers
étonnante cloche de table en bronze marquée champagne,d'époque fin 19ème,
elle est surmontée d'un diablotin occupé à boucher la bouteille avec un maillet.
En parfait état, elle fonctionne très bien ,un objet semblable est conservé au musée de Motiers en Suisse
Bronze table bell 19th C, marked champagne, decor of the devil, Motiers Museum
Amazing bronze table bell marked and in the shape of a champagne bottle, vintage late 19th century,
it is surmounted by an imp driving a cork into the bottle with a mallet.
In perfect condition, it works very well, a similar object is kept in the Museum of Motiers in Switzerland.
A truly rare bell, not often seen.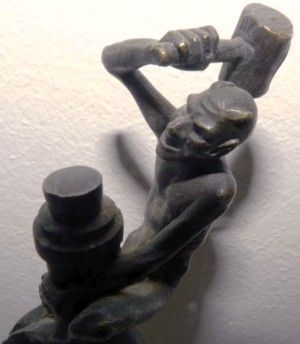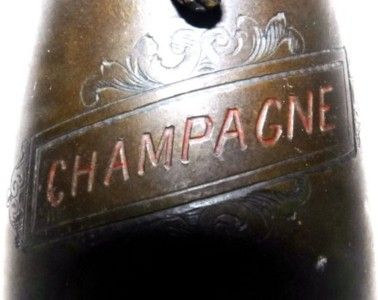 Price somewhat low for an item of this rarity.
http://www.ebay.com/itm/140902052727?ssPageName=STRK:MEWAX:IT&_trksid=p3984.m1438.l2649
=================================================================================================