Re: Re: So, what is this worth? (Part 145)
January 7, 2013 at 3:11 am
#15284
halanb
Participant
145d – VINTAGE GERMAN HOTEL BELL / MUSTERSCHUTZ / EIN LAUTNANT
NICE VINTAGE CONDITION. VERY AWESOME BELL!!
WHEN YOU TURN HIS HEAD IT RINGS THE BELL.
NICE COLLECTABLE TO DISPLAY WITH YOUR COLLECTION.
I'M NOT SURE OF THE AGE. BUT, I WAS TOLD IT'S AROUND THE 30s – 40s.
Very unusual twist mechanical bell, with the mechanism inside the cape.
Have never seen another like it.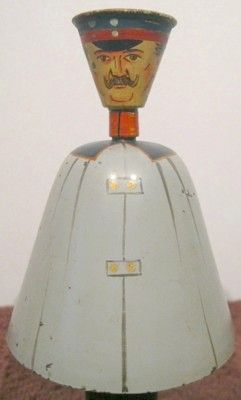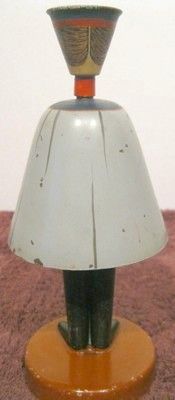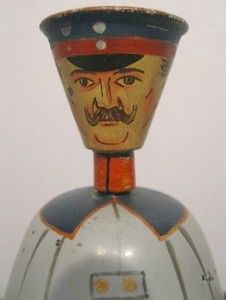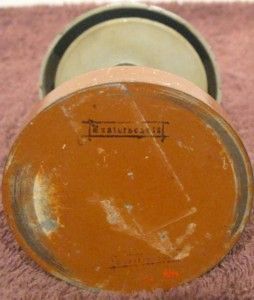 http://www.ebay.com/itm/200869197735?ssPageName=STRK:MEWAX:IT&_trksid=p3984.m1438.l2649
==================================================================================================
145e – VA 20351 TISCHGLOCKE PULTGLOCKE TISCHKLINGEL METALL
Zustand: 3
Glocke ist vermutlich selbst aus Teilen zusammengebaut
Größe ca 13 x 8,5 x 10cm
TABLE BELL / JINGLE BELL / DESK BELL, METAL
Condition: 3 (whatever that means)
Bell is probably assembled from parts
Size about 13 x 8.5 x 10cm
Could stand to be cleaned/polished, but a good bargain.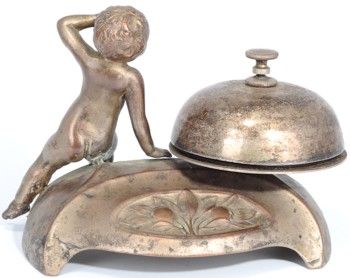 http://www.ebay.com/itm/160942351409?ssPageName=STRK:MEWAX:IT&_trksid=p3984.m1438.l2649
=================================================================================================
145f – Rare Victorian Hotel Counter/Desk Bell, Ship's Wheel, Service, Call, Iron, Brass
Offered today is this wonderful antique bell that was likely used at the front desk of a hotel or perhaps as a call bell for a maid or butler. The style reminds me of Eastlake furniture. I would date it from the 1870's – 1890's. Weighs about 2 & 1/4 lbs. Measures 7 & 1/4″ at the highest point. The base is 4 & 1/4″ in diameter. I can find no markings at all. The bottom has part of a paper dust cover.
The base is black painted cast iron with significant chipping. Above that is brass with very heavily patina. The nicely detailed arms also appear to be brass or bronze. The two domed sides of the bell appear to be different metal. One side looks like nickel ad the other looks like brass. The nickel side is not perfectly aligned so this may be a replacement but perhaps different metals were used to affect the tone of the ring. The brass side has 8 age related stress cracks at the edge. Each is 1/2″ or less. Please see photos. These are tight cracks and do not seem to affect the tone or use of the bell. That side feels structurally sound. I see no reason that ringing the bell once in a while will cause any further damage. The center wheel that looks like a ship's wheel also appears to be brass. All "handles" are present and in good condition. You can spin this wheel in either direction to ring the bell. If you spin the bell five times the first three rings are surprisingly loud and clear. Something seems so catch on the fourth and fifth ring but if you continue, the next three rings are loud again. This happens when spinning both directions.
The seller does not necessarily know much about mechanical bells,
but provides a good honest description of what s/he sees.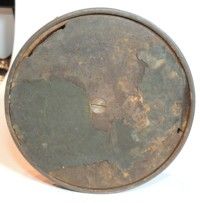 http://www.ebay.com/itm/150972708648?ssPageName=STRK:MEWAX:IT&_trksid=p3984.m1438.l2649
=================================================================================================