Re: Re: So, what is this worth? (Part 141)
December 12, 2012 at 2:00 am
#15276
halanb
Participant

141a – Antique Original Art Nouveau Jugendstil Pewter Figural Bell Push Ringer, c.1900
Nice figural bell push made of silver plated pewter, c. 1900, Austrian
Very nice, good as found condition, some loss to the plating
Height: c. 10 cm (~4 in)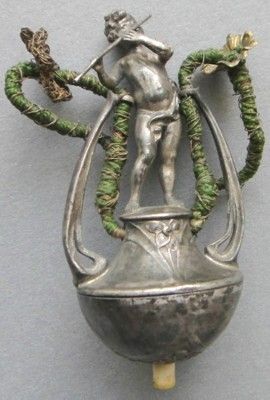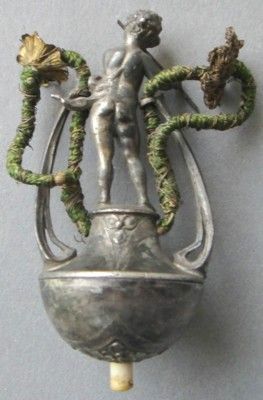 http://www.ebay.com/itm/251194156172?ssPageName=STRK:MEWAX:IT&_trksid=p3984.m1438.l2649
=================================================================================================
141b – Gorham 6 Victorian Women Silver over Bronze Bells
Here we have a set of 6 vintage bells produced by Gorham. These were produced by the lost wax method in solid bronze with sterling silver plating. They are approx. 5 1/8 by 2 1/2 inches. The stands are wood with name plates. Four of the name plates have come loose and need to be glued back on. I will leave that to the new owner. The wood stands are not perfect as you can see in the pictures, but are nice. The bells are tarnished and have not been polished in years. These are a very early production with the number 203 stamped on all of them. The six bells are as follows:
– Queen Isabella 1
– Queen Elizabeth 1
– Mary Queen of Scots
– Marie De Medicis
– Catherine the Great
– Marie Antoinette
We've seen these previously, the Gorham "Women Who Changed The Course Of History."
Issued sequentially in the 1970s at an original price of $75 each. Asking prices vary widely, but you can often find them for about $50 each, or less, and the best buy on lady bells for the price, given the standard to which they were made.
It has always seemed a curious selection to me. Personally, I think that three changed history (Isabella, Elizabeth, Catherine). The other three I think observed history being changed, but made no significant contribution of her own, and there are others who would more merit inclusion such as the Blessed Virgin Mary, Cleopatra, and Joan of Arc.
The name plates are often loose, but easy to repair. Clean the back of the plate, polish the front, attach to the same position as previously with a little household cement, wrap with a rubber band, and let dry.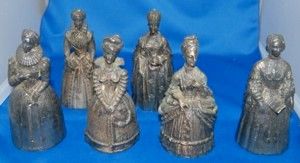 Isabella, Elizabeth, Catherine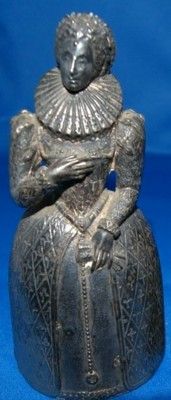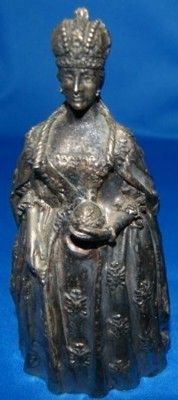 Mary Queen of Scots, Marie de Medicis, Marie Antoinette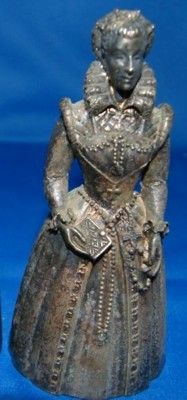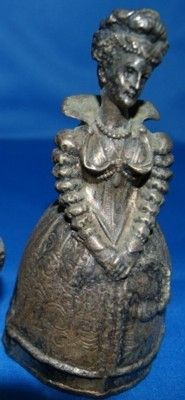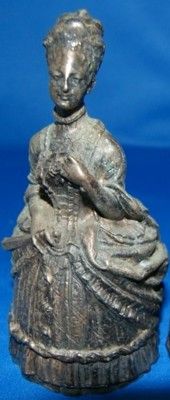 A good deal for someone.
http://www.ebay.com/itm/290824558729?ssPageName=STRK:MEWAX:IT&_trksid=p3984.m1438.l2649
=================================================================================================
141c – Vintage Edwardian Butlers 8 Bell Call Box
Original Vintage Edwardian Butler Call Box
8 bell – wiring all intact and can still be connected
This is an example of where all the bell pushes in a large household would terminate, and show which room was summoning a servant. They have various names, but Call Box or Call Indicator is common. When a remote switch was pressed, a bell would ring and a flag flip down into the relevant window. Most of these of British manufacture did not incorporate a bell, but one appears to have been added to the top of the box. American models were often known as an Annunciator, and generally had a built-in bell.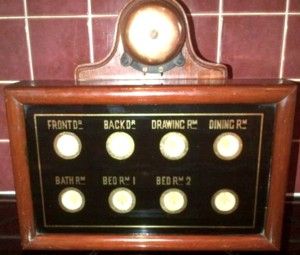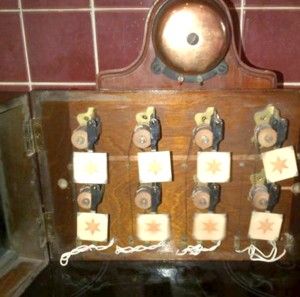 http://www.ebay.com/itm/281033560800?ssPageName=STRK:MEWAX:IT&_trksid=p3984.m1438.l2649
=================================================================================================