Re: Re: So, what is this worth? (Part 140)
December 6, 2012 at 6:35 pm
#15268
halanb
Participant
140a – VINTAGE BRASS/BRONZE 5″ QUALITY LADY HAND BELL WITH LEGS AS CLAPPER
This is an old vintage brass quality handbell portraying a 19th century dessed lady holding out her purse.
The clapper is in the shape of the ladies legs.
The figure stands a shade over 5 " 13cm) high and is in a good condition with no damage.
I believe the item to be from the early part of the 20th century and to be solid brass.However, the patina has given the bell the appearance of bronze so I am not entirely sure it isn't bronze instead of brass.
I decided best to leave it as it is and not too attempt a cleaning.
Lovely looking well made bell with a nice ring.
Very sturdy and heavy, weighing over 650 grams.
This is a Pearson Page bell, described in their 1925 catalog as the "Singing Girl".
It is sand cast brass, and from the time period when they were all well done.
The chemical patina does give it the appearance of bronze.
It is also found in plain or lacquered brass, without patina color.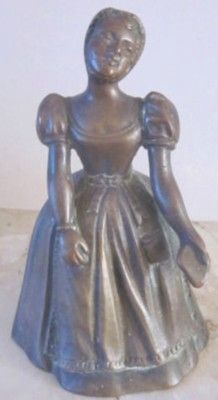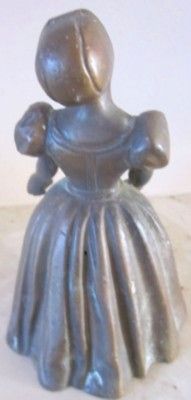 The bell is also found with the left arm in a different position. One like this, full extended, is common.
I have also seen one with the left arm in an intermediate position, the least often found.
I presume that over time the factory changed the models used for the sand molds.
Note the unusual leg clappers.

I would have expected this to sell for twice as much,
but the seller listed it as Buy-It-Now,
someone saw it, and grabbed it.
http://www.ebay.com/itm/251195074087
=================================================================================================
140b – Rare Clochette de table joueuse Vielle Viola en Argent massif du 19ièm Silver
Sujet très rare pour cette clochette joueuse de vielle en argent massif du 19ièm.
Je ne connais pas l'origine,désolé,voir les poinçons.
Hauteur 10,5cm Poids 135gr
Très bon Etat.
Rare Old Table Bell, Viola Player, Solid 19C Silver
Very rare subject for this table bell, a girl playing a viola, solid silver, 19C.
I do not know the origin, sorry, but see the hallmarks.
Height 10.5 cm Weight 135gr
Very good condition.
She is playing a string instrument known as a Vielle à Roue (Fr) or Hurdy Gurdy (Eng).
For a demonstation of how it is played, see: http://www.ted.com/talks/lang/en/caroline_phillips_hurdy_gurdy_for_beginners.html
The same bell is occasionally found in bronze.
Sold in the normal price range.
http://www.ebay.com/itm/140891918219?ssPageName=STRK:MEWAX:IT&_trksid=p3984.m1438.l2649
=================================================================================================