Re: Re: So, what is this worth? (Part 139)
December 3, 2012 at 8:34 pm
#15270
halanb
Participant
139a – Trench Art Yorkshire Regiment Bell
This is a very nice Trench Art bell – The Yorkshire Regiment – The Princess of Wales Own
It stands 6.75 inches high, the Shell being half of that height.
The badge to the front has no damage and although Iisted this as WW2,
I am sure this is a Queen's Crown so making the bell from a later period.
Another of the so-called "Trench Art" items, again made from a small artillery shell.
It is common to find them decorated with regimental badges.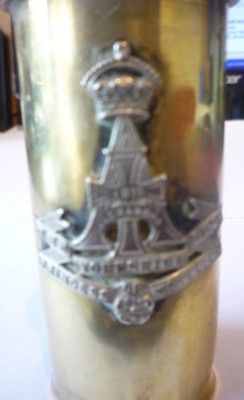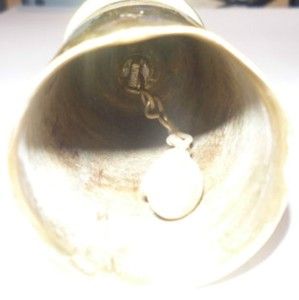 http://www.ebay.com/itm/121028666489?ssPageName=STRK:MEWAX:IT&_trksid=p3984.m1438.l2649
=================================================================================================
139b – 1900 Brass and Crystal Joan of Arc Bell/Clochette/Cloche and
Sceau/Seal Jeanne d'Arc
Here is a fine and rare French table bell, made from purple crystal, mounted of a fine Brass chased handle, figural a Fleur de Lys, emblem of French Royalty, on which is applied ND with crown.
The stamp is with the initials AR on which is applied a little figure of Joan of Arc riding, dressed as a warrior.
Condition is excellent, flawless, piece is complete, bronze and brass needs to be cleaned.
French working, dating from late 19th C or 1900s first years.
Table bell : 12 cm / 4,5 cm
Stamp : 7,5 cm / 2 cm
A flint glass bell and wax seal stamp, each with a fleur de lis emblem.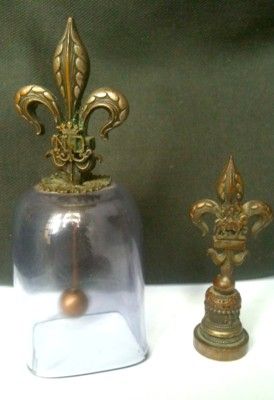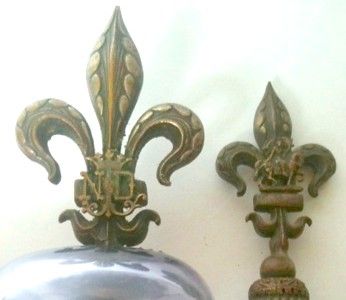 The flint glass bells with coordinated handle and clapper tend to sell
at a higher price than those like this with a plain ball clapper.
The bronze wax seal stamps often sell by themselves in the $50 – $75 range.
The pair of them together fetched a relatively low price.
http://www.ebay.com/itm/230887295302?ssPageName=STRK:MEWAX:IT&_trksid=p3984.m1438.l2649
=================================================================================================
139c – Brass Lady Bell Angel Archangel Gabriel Gods Messenger Wings Robes Vintage Rare
This stunning vintage brass Angel lady bell comes in excellent condition, it weighs 511g unboxed!
It's a very old bell, the wings have been cast separately and bolted to the main body.
The casting is absolutely superb! I've honestly never seen another.
I think it would make a super addition to any lady bell or angel collection.
In Abrahamic religions, Gabriel (Hebrew: גַּבְרִיאֵל, Modern Gavri'el, Tiberian Gaḇrî'ēl, God is my strength; Arabic: جبريل, Jibrīl or جبرائيل Jibrāʾīl) is an archangel who typically serves as a messenger to humans from God. Gabriel is mentioned in the Bible once in the Old Testament and once in the New. In the Old Testament, he appears to the prophet Daniel, delivering explanations of Daniel's visions (Daniel 8:15–26, 9:21–27). In the Gospel of Luke, Gabriel appears to the virgin Mary and to Zechariah, foretelling the births of Jesus and John the Baptist, respectively (Luke 1:11-38). Daniel does not explicitly identify Gabriel as an angel: he is a visionary figure whom Daniel calls "the man Gabriel". In the Gospel of Luke, Gabriel is referred to as "an angel of the Lord" (Luke 1:11). But, Christians of the Catholic traditions call him an archangel, following terminology developed in the Intertestamental period, especially the Book of Enoch. In the Roman Catholic, Anglican, Eastern and Oriental Orthodox Churches, the archangels Michael, Raphael and Gabriel are considered saints. In Islam, Gabriel (Jibra'il) is believed to have been the angel who revealed the Qur'an to the Prophet Mohammed in the period of 23 years.
It measures approx: 2.6 inches (6.7cm) long, 5.5 inches (14cm) high by 1.75 inches (4.5cm) wide.
As the seller says in paragraph 1, it is a most unusual item and I have never seen another either.
It is a decent brass casting, though I would not agree that it is superb, and the casting details
are certainly not up to the lost wax bronze standard.
Paragraph 2 is taken directly from Wikipedia, without attribution.
Whether the figure can be identified as Gabriel is a matter of conjecture.
In Old Testament art work, Gabriel is usually shown with a horn.
In New Testament art work, Gabriel usually bears lilies at the Annunciation.
This figure seems to be carrying a Censer, a charcoal tablet incense burner.
I would be interested if anyone knows of a connection of Gabriel and a Censer.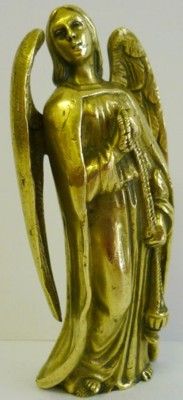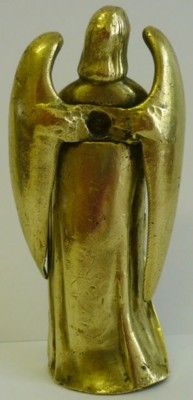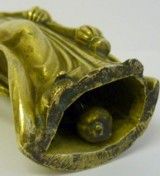 http://www.ebay.com/itm/350627183011?ssPageName=STRK:MEWAX:IT&_trksid=p3984.m1438.l2649
=================================================================================================