Re: Re: So, what is this worth? (Part 137)
November 26, 2012 at 3:32 am
#15274
halanb
Participant
Nothing very fancy and most inexpensive this week, just good solid bells.
=================================================================================================
137a – Vintage Solid Brass Table Bell Made in England Nice Clear Tone
This Brass bell is in very good used condition.This is about 4 3/4″ tall.Bell opening is a little over 2 1/2″.This has in raised letters on the inside,"MADE IN ENGLAND".Handle is solid machined turned brass.This has a nice clear tone.
Brass tea or table bell with a balluster handle. Probably mid 20C.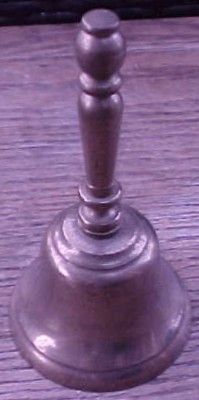 http://www.ebay.com/itm/251186588717?ssPageName=STRK:MEWAX:IT&_trksid=p3984.m1438.l2649
=================================================================================================
137b – ORNATE VICTORIAN ANTIQUE BRASS OR BRONZE BELL
I'm not sure if this is bronze or brass. It is very well decorated and has a nice ring, the inside of the
bell has a registration mark Rd 45761 and some letters in black XIX, also there's faded black lettering.
Wooden handle, well turned, this is a nice item, very collectable. 4 1/4″ tall, good condition.
Another tea or table bell, probably brass since it was made in England.
The Registry mark places the design as having been registered in 1886.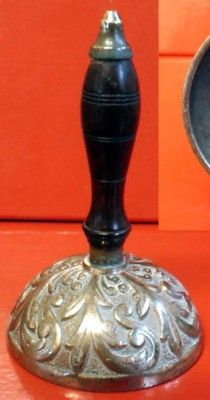 http://www.ebay.com/itm/281026509741?ssPageName=STRK:MEWAX:IT&_trksid=p3984.m1438.l2649
=================================================================================================
137 c – ENGRAVED Small TABLE or SERVING BELL – Marked – G MFG CO 041
This auction is for a small metal table or serving bell with three initials engraved on one side.
Difficult for me to tell for sure, due to the font, but I believe the initials – LWC
The square or block clapper is marked on one side – with a symbol 32 and what appears to be GERMANY beneath – at least ERMAN is legible.
There is additional markings inside the bell housing, but they are extremely worn. My best guess on these stamps – G MFG CO 041 and a small hallmark or symbol.
A magnet is not drawn to the body of the bell, but is attracted to the clapper within.
Bell weighs approximately 3.2 ounces.
Moderate to heavy signs of wear and handling.
Scuffs, rubs and scratches present.
Light soiling from shelf dust and storage.
I have not attempted to polish or clean the bell.
A third small tea or table bell, this time from Gorham Silver, c.1880. Occasionally you may find a sterling Gorham bell, but most are silver-plated brass. The marks were stamped into the interior of the bell, and sometimes can be difficult to read. I believe the 041 and the accompanying hallmark or symbol specifies the year of manufacture, but I do not know how to read Gorham marks. The clapper has been replaced.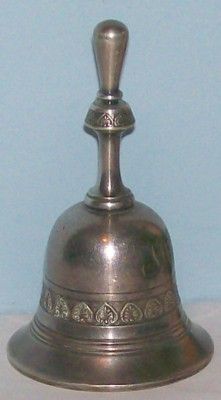 http://www.ebay.com/itm/380459482315?ssPageName=STRK:MEWAX:IT&_trksid=p3984.m1438.l2649
=================================================================================================