Re: Re: So, what is this worth? (Part 130a-c)
October 22, 2012 at 2:36 am
#15258
halanb
Participant
130a – JEANNE D'ARC CLOCHETTE DE TABLE EN BRONZE – XIXème Siècle
Bronze, Hauteur 10 cm, poids 308 Gr
Bon état.
JOAN OF ARC BRONZE TABLE BELL – 19TH CENTURY
Bronze, Height 10 cm (4 in), weight 308 gm (11 oz)
Good condition.
Sand cast bell, average condition for this model.
The first picture is the one currently listed.
The second and third are others of the same type.
There are slight differences, but nothing more than that.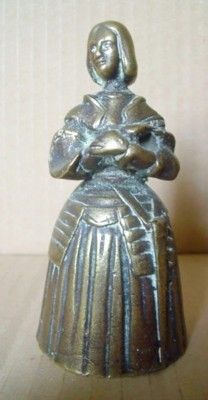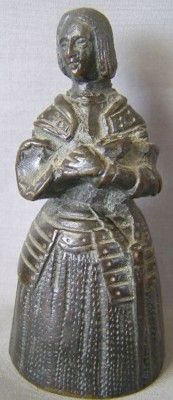 The figure is based on a statue by Princess Marie d'Orleans (1813 – 1839), daughter of Louis Philippe.
Dead at age 25, she left only a small body of work, of which this is by far the most popular.
The original was marble, installed at Versailles in 1837, many times copied in bronze in various sizes.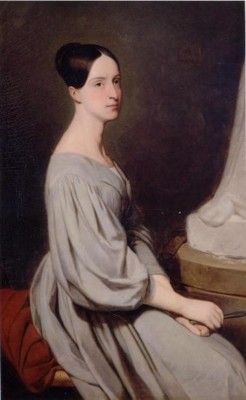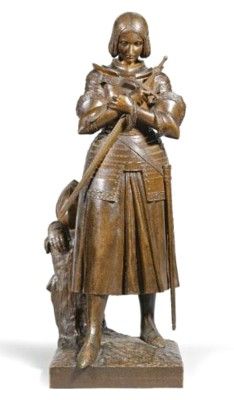 The sword is omitted on sand cast bells. Very occasionally, less than 1% of the time,
you might encounter this bell in a lost wax version where the figure is holding a sword.
Typical prices – sand cast $50, lost wax $250.
http://www.ebay.com/itm/251167172461?ssPageName=STRK:MEWAX:IT&_trksid=p3984.m1438.l2649
=================================================================================================
130b – PAIR OF EARLY C19TH BRASS RUMBLE BELLS
These two crotal rumble bells measure 6 inches radius inc. loop.
One has RW on the front the other has GW.
The seller must mean 6 inches in circumference.
The bells are about 2 inches in diameter (1 inch in radius).
Robert Wells and his sons Robert and James were making these bells around 1800.
All of theirs are marked RW.
Both bells have exactly the same style of decoration.
If related, who then is GW?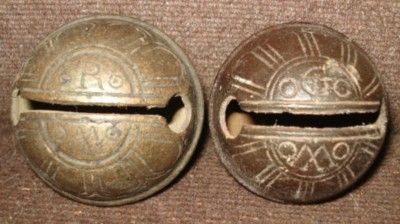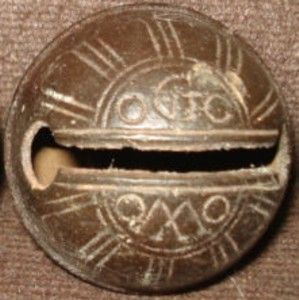 Small RW bells should sell in the $10 range. I think these carried a premium because of the GW.
http://www.ebay.com/itm/110963591712?ssPageName=STRK:MEWAX:IT&_trksid=p3984.m1438.l2649
=================================================================================================
130c – CLOCHE CLOCHETTE DE TABLE DRAGON SATYRE MYTHOLOGIE 19ème XIXème
Superbe qualité d'exécution pour cette cloche de table en bronze du XIXème siècle.
Parfait état, Hauteur: 9,5 cm
TABLE BELL – DRAGON – SATYR – MYTHOLOGY – 19TH CENTURY
Supurb quality in detail for this bronze table bell from the 19th Century.
Perfect condition, Height: 9.5 cm (3.7 in)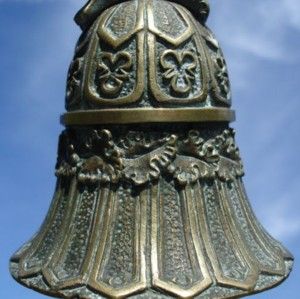 http://www.ebay.com/itm/170918369744?ssPageName=STRK:MEWAX:IT&_trksid=p3984.m1438.l2649
=================================================================================================