Re: Re: So, what is this worth? (Part 129)
October 16, 2012 at 3:06 am
#15257
halanb
Participant
129d – VINTAGE CARL WAGNER BRONZE CAPE BUFFALO BELL 1979 SIGNED #16/1000
This is a wonderful 1979 Carl Wagner Bronze Bell of a Cape Buffalo.
This Bronze measures 6 inches tall 8 inches wide, 5½ deep with the clapper being the hoof of the buffalo. The Bronze is in very good condition. It is signed "Carl Wagner 16/1000 ©79" on the inside of the bell.
Carl Wagner of Salida, Colorado made bells from 1977 through 1979. In a 2009 interview he said that only some of the 20 different bells reached their full intended production run, however he kept no records as to the actual quantity made of each. Carl passed away in 2011.
The patina color is normally a dark brown. This bell is much lighter and seems as if there may be a problem on the reverse. Normally the bells are signed "C. Wagner" but a friend told me that her Cape Buffalo also has the full name "Carl Wagner".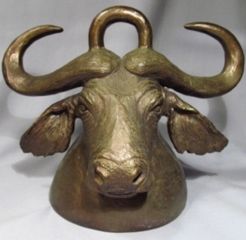 http://www.ebay.com/itm/200829786473?ssPageName=STRK:MESINDXX:IT&_trksid=p3984.m1436.l2649
=================================================================================================