Re: Re: So, what is this worth? (Part 126d)
September 25, 2012 at 4:18 am
#15253
halanb
Participant
126d – VICTORIAN SILVER GUARDS HELMET TABLE BELL Samuel Watton Smith Birmingham 1876
Victorian silver Table Bell made in the form of a Guards Helmet, pierced and engraved with flowers and foliage amongst scrolls, two vacant cartouches. The metal mechanical bell with a silver base is operated by twisting the spike.
In good condition with no damage or repair, the operating spike just slightly loose in its housing. The bell in good working order.
By Samuel Watton Smith, Birmingham, 1876
118 mm (4.7 in) high.
It is more common to encounter these with a Germanic theme and a larger size,
though those will be brass or silver-plated, not sterling.
By far the highlight of this group, though by far the most expensive.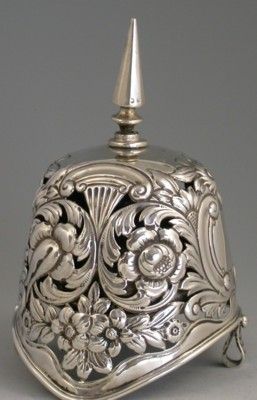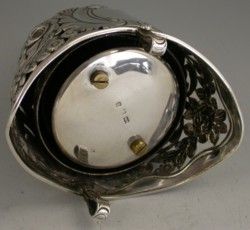 http://cgi.ebay.com/ws/eBayISAPI.dll?ViewItem&item=150899807447
=================================================================================================