Re: Re: So, what is this worth? (Part 125f-g)
September 19, 2012 at 1:17 am
#15251
halanb
Participant
125f – Rare Antique Hand-Painted French Faience Figural *Dinner Bell* Aristocrat Lady
Measuring 7 ½" (18.5cm) tall, this Dinner Bell represents a 17th century French Aristocrat Lady. Her dress is hand painted and she is wearing a tall cloth bonnet. This bell still retains its original pottery clacker. The artist signed this antique Faience Pottery Bell "ANF". The letters are together and it could be NAF. There are no problems or any repairs to this antique figural Dinner Bell; however, there is an imperfection on the lady's cheek. When I look with a loupe I can see this is an indentation in the glaze and not a chip.
Finally, something for you Porcelain People.
I can't really say much about it. I like it, I would like to have it, I would not like to have paid a price sufficient to acquire this particular example though there was plenty of competition.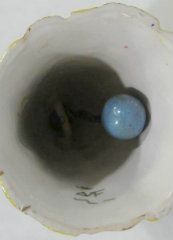 http://www.ebay.com/itm/380467445828?ssPageName=STRK:MESINDXX:IT&_trksid=p3984.m1436.l2649
=================================================================================================
125g – 12 Antique 19C. Indian Bronze Foot Scrubber Rattle Bell Collection
Description : Collection of twelve Antique 19th C. Indian bronze foot scrubbers .
Most of these have rattles inside. These were used to massage feet since many did not have shoes.
These are all figural with birds, horses, a deity and more.
11 of 12 are Deaccessioned from Honolulu Museum Of Art.
Size : Vary in size most 3 1/2-4″ Tall.
Age : 19th C.
Condition : Very good condition.
Why buy one when you can buy a bunch?
Many metal bell collectors have a few of these. A smaller group pursues them with greater zeal.
Some are genuine antiques and date back to 19C, while others are more recent.
It is up to the purchaser to decide which is which.
I wouldn't make too much of them having been de-accessioned from a museum. That often means that someone gave them to the museum a long time ago, they have been sitting in a cabinet in the basement for quite a few years, and the museum decided to dispose of them to free up the space and/or to use the sale funds to purchase something else. That said, you might still assume that they are fairly old and may be good quality.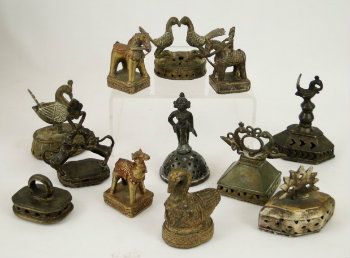 Many of the antiques scrubbers sell in the $100 range, so this may have been a decent bargain for a dozen.
http://cgi.ebay.com/ws/eBayISAPI.dll?ViewItem&item=390462233929
=================================================================================================