Re: Re: So, what is this worth? (Part 125d-e)
September 19, 2012 at 12:33 am
#15250
halanb
Participant
125d – Brass Bell / Lady Bell Collectors! Rare Demonic Two Faced Brass Bell!
Rare Demonic Two Faced Brass Bell with a Fist rising from his head!
3.5 inches tall with a clapper.
One of the Oni bells, and we have seen previous examples.
The metal is often thin between the braids of the beard near the rim, and sometimes cracked.
This one appears intact, though hard to tell from the low quality pictures.
See also, Devils and Demons viewtopic.php?f=6&t=4160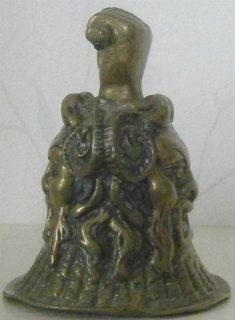 I think the auction price was about triple the usual price.
They are not that uncommon, and you can find one if you keep looking.
http://www.ebay.co.uk/itm/Vintage-brass-Lady-Bell-very-rare-Please-look-/170907913667
=================================================================================================
125e – A VERY RARE BRASS LADY BELL…..NUN
A GOOD QUALITY BRASS BELL … NUN …
THE BELL MAY BE MADE FROM NICKEL SILVER, RATHER THAN BRASS,
WHICH HAS BEEN GOLD PLATED AT SOME TIME.
THE BELL MEASURES 2 INCHES WIDE BY 4 INCHES HIGH.
THE BELL IS UNMARKED.
THE GOLD PLATING IS WORN OTHER THAN IN THE RECESSES.
THE BELL HAS LOST ITS CLAPPER, OTHERWISE THE BELL IS IN VERY GOOD CONDITION.
This is one of my favorite bells, a somewhat understated design more in the Art Deco mode,
and I have had several over the years. It is also found in both plain bronze and as silver-plated.
The seller mentions several possible metals from which the bell may have been made.
Bronze is traditionally 95% copper and 5% tin when used for table bells.
Brass is traditionally 95% copper and 5% zinc when used for table bells.
Either can have lower percentages of other metals, including lead, silicon, nickel, aluminum,
manganese, magnesium, beryllium, …
There are hundreds of copper alloys, many formulated for specific industrial purposes.
The particular alloy chosen for this bell has also puzzled me.
The color is wrong for nickel silver, one possibility that the seller mentions.
What s/he thinks might be gold-plating, I suspect is a low level of oxidation.
The surface is not porous like bronze, but more like brass in that regard.
Whatever it is, it is pleasing both to sight and touch.
Buy one, and I think you will like it too.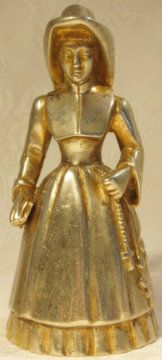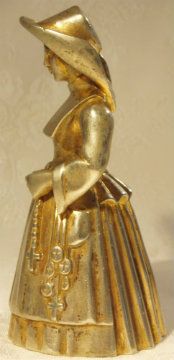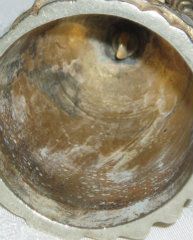 However, I could not recommend having purchased this one, at double to triple the usual price.
http://www.ebay.co.uk/itm/A-VERY-RARE-BRASS-LADY-BELL-NUN-/230848464051
=================================================================================================