Re: Re: So, what is this worth? (Part 124)
September 10, 2012 at 3:56 pm
#15248
halanb
Participant
124a – BELLE PETITE CLOCHETTE DE TABLE EN FORME DE CHAT MARQUEE RIZETTE
Belle clochette de table de 10 cm de haut, systeme de percussion manquant (mais pas trés difficle à faire). Le mot "Rizette" est marqué su le chat, trés bon état.
BEAUTIFUL SMALL TABLE BELL IN THE FORM OF A CAT, MARKED RIZETTE
Beautiful table bell, 10 cm (4 in) in height, missing the clapper (but not difficult to replace).
The word "Rizette" is inscribed on the cat, very good condition.
Another of the Art Deco figural bells that I like. The inscription may appear to be Rizette, but it actually is Bizette, for Andre Bizette-Lindet, a French sculptor from the 1930s. When properly identified, his works are highly collectable.
Another bell on which I should have placed a bid, but failed to do so. It sold for a very low price.
http://www.ebay.com/itm/261092630888?ssPageName=STRK:MESINDXX:IT&_trksid=p3984.m1436.l2649
=================================================================================================
124b – UNUSUAL BRASS LADY BELL TYPE IN THE FORM OF A HOUSE OR MARKET PLACE/HALL C1900.
This is a most unusual brass bell which is in the form of a period house or market hall. It was probably made as a souvenir from a town or village where this particular building stood. If anyone recognises it, I would appreciate knowing. It is well detailed & has its original clapper which gives a pleasant ring. It stands 8 cms (3.2 in) tall, is 5.5 cms (2.2 in) across the base & weighs 231 grams. I would say that it dates around 1900.
Thank you to the very kind ebayer who sent me details re the name of the building. It runs as follows: The building is the Yarn Market Hall in Dunster, Somerset, England. It was built around 1609 to shelter the traders, destroyed during the Civil War & restored around 1647. Local cloth is known as "dunsters", hence the name of the village.
The building is octagonal in shape – an unusual but not unique design.
This small brass bell, not all that uncommon, is always in demand for some reason. The sale price is typical, though one may occasionally slip through at a much lower price.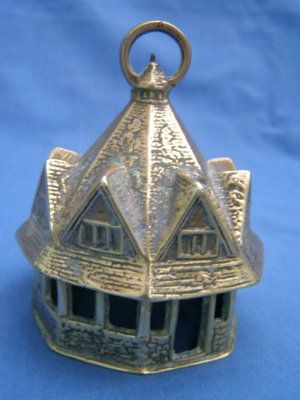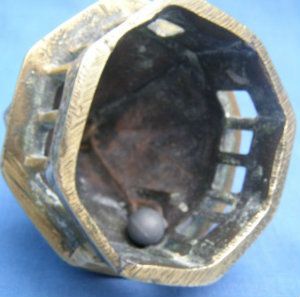 http://cgi.ebay.com/ws/eBayISAPI.dll?ViewItem&item=290767904873
=================================================================================================
124c – ANCIENNE PEU COURANTE CLOCHETTE DE TABLE EN BRONZE A EFFIGIE DE JEANNE D'ARC
A EFFIGIE DE "JEANNE D'ARC"
OBJET DE COLLECTION
DÉCOR/ PERSONNAGE "JEANNE D'ARC" AVEC LE HEAUME
A SES PIEDS – VOIR PHOTO
MATIÈRE BRONZE
ETAT / CORRECT !
HAUT / 12 CM
POIDS / 418 GRS
USURE DU TEMPS
LITTLE OLD COMMON BELL BRONZE TABLE A EFFIGY OF JOAN OF ARC
AN EFFIGY OF "JOAN OF ARC"
COLLECTIBLE OBJECT
CHARACTER "JOAN OF ARC" WITH HELMET AT HER FEET
MATERIAL BRONZE
GOOD CONDITION
HEIGHT 12 CM (4.8 IN)
WEIGHT / 418 GRS
NORMAL WEAR
An unusual and seldom seen version of a Joan of Arc bell. The seller says it is bronze, I suspect it is brass, though the condition and casting are more important than the choice of metal.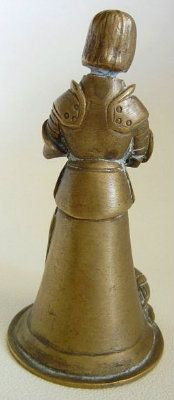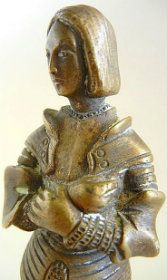 Pic 5 shows the most often seen Joan of Arc, in brass and sand cast.
Pic 6 is a better version, again in brass and sand cast.
Pic 7 is a lost wax casting in sterling, and with the sword. This is also found in brass/bronze occasionally and both are typically much more expensive than the sand cast versions.
Pic 8 shows a different version, even higher quality than the sterling, in bronze and lost wax,
from the Anselm Lange collection.
All are about 4 in (10 cm) high.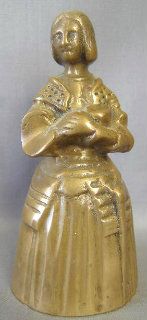 http://www.ebay.com/itm/190718422111?ssPageName=STRK:MESINDXX:IT&_trksid=p3984.m1436.l2649
=================================================================================================