Re: Re: So, what is this worth? (Part 117g-i)
July 30, 2012 at 3:25 pm
#15238
halanb
Participant
117g – Clochette de table ancienne en cristal.Prise à l'hermine héraldique
Belle clochette de table ancienne en cristal et métal…
La prise est une hermine…
Travail trés fin…
Hauteur totale: 11cm
Cloche cristal: 4,3cm x 4,3cm
Bell antique table in cristal. Top is a heraldic ermine
Beautiful antique table bell metal and crystal …
The top is an ermine …
Very fine work …
Total height: 11 cm (4.4 in)
Bell crystal: 4.3 cm x 4.3 cm (1.7 in x 1.7 in)
Another flint glass bell, this one of the type of a ball, instead of a coordinated, clapper.
http://www.ebay.com/itm/280923896319?ssPageName=STRK:MEWAX:IT&_trksid=p3984.m1423.l2649
=================================================================================================
117h – RARE ANTIQUE FRENCH BRASS FIGURAL HOTEL DESK BELL MONKEY TURTLE FLAG
A very rare, antique, French, brass, hotel desk bell.
It features a monkey wearing a jockey's cap & riding a turtle. He has wire reins & is holding a flag that reads "TRAIN DE PLAISIR". The monkey's tail curls around the flagpole. You push down on the flagpole to ring the bell.
It measures about 7 1/4″ (18.5 cm.) tall & 4″ (10 cm.) long.
It is in excellent condition save for the turtle which is missing one of his ruby glass eyes.
It has no maker's marks that I can find.
I find this bell the most interesting of the lot. Not for its condition, which is somewhat rough, but just for the fact that it appears on the market. I have never seen another for sale. It is one bell that deserves to be called rare.
The staff and banner are brass, the monkey and base may be either brass or gilt. It needs a good cleaning to find out. Some are all gilt. Others may be a mixture of gilt, brass, and bronze.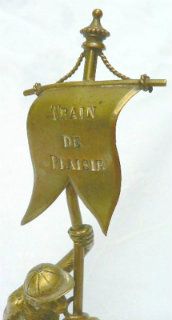 The best I have encountered is shown at left below. The contrast between gilt and dark bronze is quite striking. The monkey also has a purse and nose ring. Where can you find one for sale? I wish I knew.
The one at below right is another in this group. The monkey has the same jockey cap, plus an apron, and appears to be washing clothes. The small clothes basket to the right houses an ink container.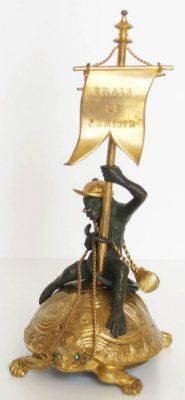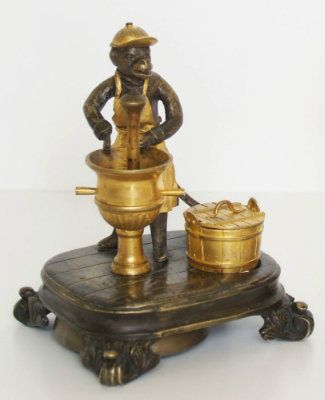 http://www.ebay.com/itm/380457151503?ssPageName=STRK:MEWAX:IT&_trksid=p3984.m1423.l2649
=================================================================================================
117i – ATQ HEAVY CAST BRONZE NODDER BELL SITTING SETTER DOG ON PILLOW WITH PUPPIES
This gorgeous cast bronze bell is in the shape of a dog, possibly a Setter of some sort. Two little puppies are next to her, with one pushing its head through her legs. There are very crisp details on the bell, and the dogs. The tail is the handle, and the head is attached to the brass clapper inside, so it moves when the bell is rung, which means it's the nodder. The clapper is heavy brass, with signs of green patina on it, which indicates that it is a true antique and not a modern reproduction. Although this is quite heavy for its size, the tone of the ring is high pitched and very clear.
* 3 ½" high. 2 ¼" across the base.
* 11 ounces.
* No identifiable problems.
I deleted some of the nonsense in the seller's description, but some remains. It is a hard sell that is not needed in this case, and anyone interested in buying this bell obviously knows more about it than s/he does.
This, of course, is the Mama Dog nodder, the less often encountered companion to Mama Cat. It seems to be properly rigged as a nodder.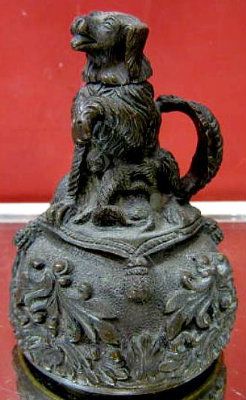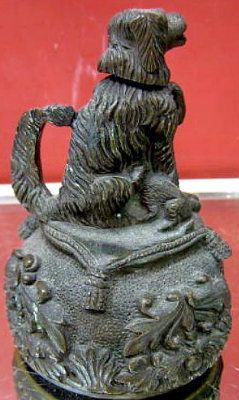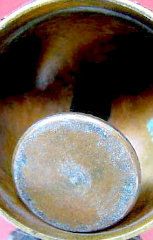 An uncommon bell, but not really rare. I'd say the sale price was about 50% higher than it should be, the result of two bidders, each of whom "had" to have it.
http://www.ebay.com/itm/320952271839?ssPageName=STRK:MEWAX:IT&_trksid=p3984.m1423.l2649
=================================================================================================