Re: Re: So, what is this worth? (Part 115)
July 18, 2012 at 7:15 pm
#15235
halanb
Participant
115a – Orig. Wiener Bronze, P.Tereszczuk sign., Jugendstil, Tischklingel, Wien um 1910
Wunderschöne Wiener Bronze- Plastik/Bronzefigur/Tischklingel, signiert P.Tereszczuk, Originalstück aus dem Jugendstil um 1910.
Die Figur ist ein Original von Peter Tereszczuk welcher 1875in Wybudow geb.wurde und 1963 in Wien verstarb.
Der Höhepunkt seines Schaffens lag zwischen 1895 und 1925 in Wien.
Die Figur ist mit dem Gießerei Stempel Tereszczuk u. Ullmann versehen.
Guter unveränderter Fundzustand.
In Deutschland wenig von diesem Künstler zu bekommen.
Größe: ca. 9,5cm hoch
Original Viennese bronze, signed P.Tereszczuk., Art Nouveau, table bell, Vienna 1910
Beautiful Vienna bronze sculpture / bronze / bell desk, signed P.Tereszczuk, original piece of art nouveau from the 1910s.
The figure is an original by Peter Tereszczuk, born 1875 in Wybudow, died 1963 in Vienna.
The highlight of his career was 1895-1925 in Vienna.
The figure is provided with the foundry stamp Tereszczuk and Ullmann.
Good condition as found unchanged.
In Germany, a little difficult to find items by this artist.
Size: about 9.5 cm (3.6 in) high
Another bell push by Art Nouveau sculptor Peter Tereszczuk.
The figure is provided with the foundry stamp Tereszczuk and Ullmann.
Many Tereszczuk items do have the Tereszczuk/Ullmann [T/U] foundry stamp,
but this one has the [AR] mark for Artur Rubenstein (no relation to the pianist.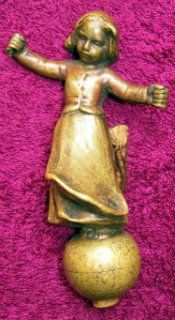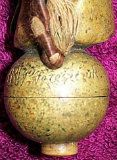 Sale price was well below average.
http://www.ebay.com/itm/170872860810?ssPageName=STRK:MEWAX:IT&_trksid=p3984.m1423.l2649
=================================================================================================
115b – RARE Vintage Lord Wellington British Empire Mourning Bell
A very RARE and beautifully made vintage brass British Empire Lord Wellington Mourning Bell, 19th century. Dong is mounted on a brass spring. Bust of Wellington on handle. In honor of Irishman Wellingtons British victory over the French and Napoleon at Waterloo Victorian form throughout. Patina untouched. Measures 4-1/2″ tall by 2-1/4″ wide. Weighs 9 oz.
Wellington is easy to identify by the uniform and his prominent hook nose.
This is a commemorative bell, part of a series, but it seems a stretch to call it a Mourning Bell. An unusual feature mentioned is the use of an extension coil spring to mount the clapper, instead of a wire or chain. Many, but not all, of this series have the same feature, and this is the only time that I have seen a spring used.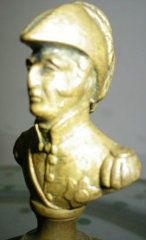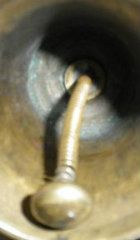 http://cgi.ebay.com/ws/eBayISAPI.dll?ViewItem&item=180931359090
Wellington (1769-1852) and Nelson (1758-1805).
They were both given state funerals, and are buried side by side in St. Paul's Cathedral.
Wellington, Nelson, Napoleon, and Moliere.
The inclusion of Moliere makes me think the bells were made in France.
Note the similar bases on the three smaller bells.
There might be a Nelson in the smaller size also, but I haven't seen one.
=================================================================================================
115c – VICTORIAN Antique Figural Meriden Silverplate Store Desk Counter Hotel Bell
Exquisite Store/Desk/Counter top/Hotel/Bellhop Figural silverplated bell, by Meriden Silver Company. Circa late 1800's. It has a young lady holding her hand up. There is an opening in her hand, so you can make her hold something. The bell rings true and sounds great. It measures approx. 7 1/4″ tall and 6 1/2″ wide.
We have seen these twice previously. The seller originally had the figure turned the wrong direction,
then was told it should be corrected. It is missing a loop that runs over the top and from side to side.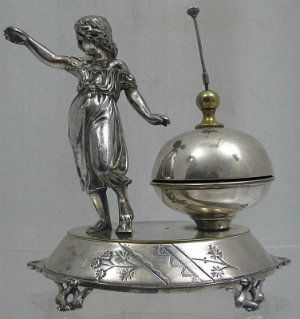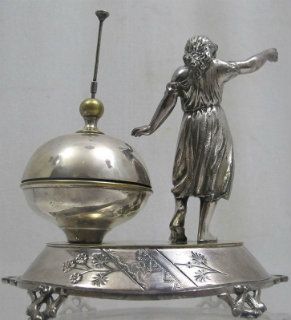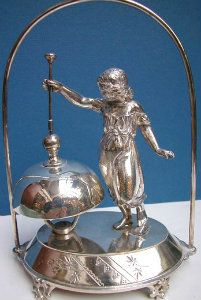 Compare with the bell shown in Part 89b (picture to upper right).
http://www.ebay.com/itm/330760094384?ssPageName=STRK:MEWAX:IT&_trksid=p3984.m1423.l2649
=================================================================================================