Re: Re: So, what is this worth? (Part 114)
July 16, 2012 at 1:48 am
#15233
halanb
Participant
114a – RARE AND FINE ANTIQUE DELFT BELL OF A SORCERER – NO RESERVE
I am offering for sale this wonderful and rare, antique Delft figure of a thoughtful sorcerer modelled as a bell. His large robe with ruched collar is well painted and at the bottom has a scene of dogs and a man with a horse. His large conical hat is also well decorated and he has a well modelled and painted face. The clapper of the bell is attached by string and is also made from delft pottery. The hat of the sorcerer has been broken off at some time and reglued. The back of the sorcerers robe has several tight hairlines and one or two on the front. There are two small frits on the base. But otherwise it is in good order. This particular model of Delft pottery is very rare. The height of this fine bell is 21cm (8.25 inch) and the width is 11.5cm (4.5 inch).
See Springer, Plate VI, pg 118f, for another version of this bell, which she calls Mr. Wizard.
I am told that one of these in good condition might often sell in the $200 – $300 range.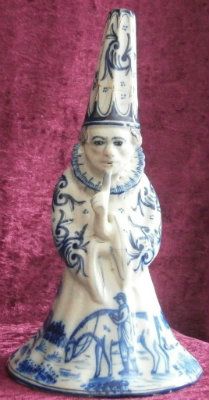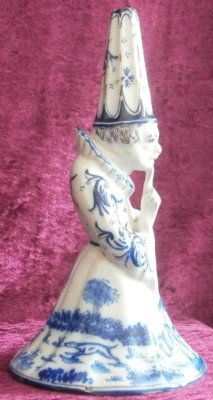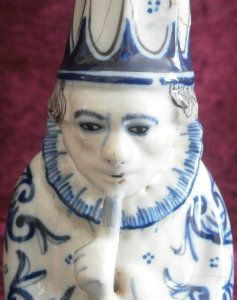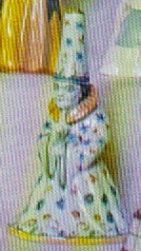 http://www.ebay.com/itm/330759382681?ssPageName=STRK:MEWAX:IT&_trksid=p3984.m1423.l2649
=================================================================================================
114b – Unusual Brass / Bronze Bell Art Nouveau ? Table Bell
An unusual table bell stands 7 1/2 inches high and is in the form of a winged fairy with her wings folded behind her. I am not sure if this is brass or bronze,it feels a little heavy for brass but am selling as brass. This is an old item and not reproduction. It is in good working order.
I have often seen these figures made as letter openers, but never one previously that was mounted on a bell.
"not sure if this is brass or bronze,it feels a little heavy for brass"
A common misconception, that bronze is heavier than brass. Both are 95% copper, which accounts for most of the weight/density. Depending on the added components, a particular alloy can vary slightly either way.

http://www.ebay.com/itm/221064189133?ssPageName=STRK:MEWAX:IT&_trksid=p3984.m1423.l2649
=================================================================================================
114c – Antique Table Bell. Berthold Muller??
This is a table bell I think as you can see a suspender inside which is broken. The inside is faintly gilded, worn over the years of polishing no doubt, and the whole thing needs a good clean but I believe that is best left to the lucky buyer.
It is 13 cm (5.2 in) high and 8 cm (3.2 in) across the base with the opening being 6.5 cm (2.6 in).
The figure, reminiscent of a Shakespearean character is holding a staff or somesuch in his left hand.
This has been snapped off immediately above the hand and is missing.
The clothing is beautifully modelled in folds and swags of draped cloth with very pretty scroll engraving around the base in a band and up the front.
In case you can't tell from the picture this is figure is definitely of a man in a soft cloth cap and he has a fur cape over his left shoulder.
Weight is 255 grams (9 oz).
Possibly another of the Hanau silver items, imported into England. See Parts 31a and 100c.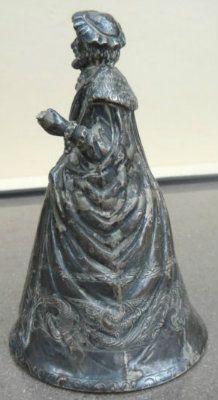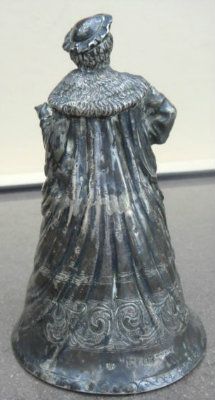 http://www.ebay.com/itm/320940526160?ssPageName=STRK:MEWAX:IT&_trksid=p3984.m1423.l2649
=================================================================================================