Re: Re: So, what is this worth? (Part 113d-f)
July 9, 2012 at 9:45 pm
#15232
halanb
Participant
113d – MOST UNUSUAL OLD ARAB BOY TABLE BELL – EITHER BRASS OR BRONZE – POSS AUSTRIAN
This is a most unusual looking old bell, it looks to have a young arab boy for the handle.
I have re-listed it as I have been told it is possibly Austrian and could be very rare.
It is either bronze or brass – it could be bronze that has been polished.
It stands 14.5cm tall and has a diameter of approx 7.5cm.
Sadly it doesn't have its clapper but still a fantastic old thing.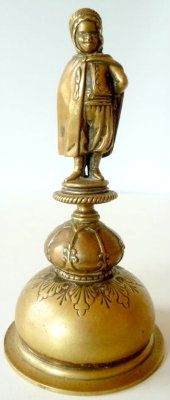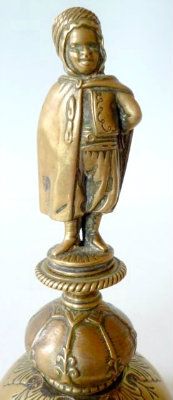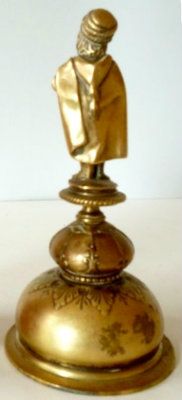 http://www.ebay.com/itm/140786752243?ssPageName=STRK:MEWAX:IT&_trksid=p3984.m1423.l2649
=================================================================================================
113e – LARGE Antique DEAGAN Catholic Mass Altar Church Chime/Tubular Bells-Oak
DIMENSIONS: 14″ x 11 1/4″ x 4″.
Chimes 2 1/4″ diam. Longest 12 7/8″.
Oak shield 7/8″ thick.
Total weight: approx. 15 lbs.
DESCRIPTION: Large, antique Catholic Church chimes/bells.
By DEAGAN. Heavy, lacquered brass tubular chimes mounted on a thick, quarter sawn oak plaque. Felt suspension. Bars with notation for Sanctus, Benediction, Communion and Offertory tunes. Tabs for wall mounting. All original. Very high quality.
Deagan plate on back.
One tube additionally stamped "J.C. Deagan, Inc., Chicago, Patented".
No mallet is included.
Circa 1920s (last patent date 1925). USA.
CONDITION: Small flake to the back edge of the oak shield — see photos. This isn't terribly conspicuous — generally not noticeable when viewed from front. Otherwise excellent, all original condition. No other damages and no significant wear. No restorations. No other chips/flakes and no breaks, cracks, splits, looseness, gouges, scuffs, dents, dings, mars, corrosion, significant scratches. No signs of abuse.
Generally very clean. Very light wear, including small, scattered, superficial rubs to lacquer and to oak finish — nothing significant / conspicuous. No missing, replaced / non original parts.
Untouched original patina. Scattered, small spots of light oxidation.
Beautiful tone.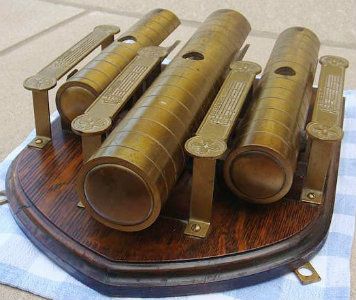 Fairly standard price.
http://www.ebay.com/itm/190696827015?ssPageName=STRK:MEWAX:IT&_trksid=p3984.m1423.l2649
=================================================================================================
113f – RARE ET MAGNIFIQUE CLOCHE DE TABLE ANCIENNE EN BRONZE TRES DECOREE ET TRAVAILLE
TRÈS RARE ET JAMAIS VU SUR EBAY
EXCEPTIONNELLE CLOCHE DE TABLE EN BRONZE DORE, MASSIF, FINEMENT CISELÉE ET TRÈS OUVRAGÉE EN RELIEF
EPOQUE FIN XVIII DÉBUT XIX° SIÈCLE
SUR UN PETIT QUADRILLAGE POINTE DANS SON CENTRE, DEUX GROS MACARONS EN RELIEFS SONT SCULPTE EN FORME DE COQUILLES
QUI REFERMENT 2 SCÈNES ROMANTIQUES
L'INTÉRIEUR DES MACARONS EST DE DEUX COULEURS BONZE ET ARGENT
L'UNE REPRÉSENTANT 2 AMOUREUX SOUS UN ARBRE, SE DÉCLARANT LEUR FLAMME PRES D'UN PUITS OU COULE DE L'EAU? UNE CRUCHE EST POSÉE SUR UN ROCHE LE PETIT HOMME TIENT UN CHAPEAU DANS LA MAIN
L'AUTRE REPRÉSENTANT UN CHASSEUR ACCOMPAGNE DE SON CHIEN, IL SOUFFLE DANS UNE CORNE AU LOIN? ON VOIT UN MAISON ET DES ARBRES, AU PREMIER PLAN, UNE CHÈVRE DÉBUSQUE D'UN BUISSON
SUR LE HAUT ET LES COTES DE LA CLOCHES PENDENT DES GUIRLANDES DE FLEURS EN RELIEF
HAUTEUR DE LA CLOCHE 12 CM
DIAMÈTRE 7.5 CM
RARE AND BEAUTIFUL ANTIQUE TABLE BELL, HIGHLY DECORATED, VERY OLD, BRONZE.
VERY RARE AND NEVER SEEN ON EBAY
EXCEPTIONAL BRONZE DORE (GILT) TABLE BELL, SOLID, VERY FINELY CHISELLED, CARVED IN RELIEF
NEAR THE TIME OF EARLY NINETEENTH CENTURY
ON A SMALL GRID POINT IN THE CENTER, TWO LARGE BUTTONS ARE CARVED IN RELIEF AND SHAPED LIKE SHELLS THAT ACCOMPANY 2 ROMANTIC SCENES
THE INTERIOR OF THE BUTTONS ARE TWO COLORS OF BRONZE AND SILVER
ONE REPRESENTS 2 LOVERS IN A TREE, EXPRESSING THEIR LOVE NEAR A WELL. A PITCHER IS PLACED ON A ROCK AND THE LITTLE MAN HOLDS A HAT IN HIS HAND
OTHER REPRESENTS HUNTER ACCOMPANIED BY HIS DOG AND BLOWING A HORN? WE SEE A HOUSE AND TREES IN THE FOREGROUND, A GOAT AND BUSH APPEAR HIGHER UP
ON THE TOP AND SIDES OF THE BELLS ARE HANGING FLOWER GARLANDS IN RELIEF
HEIGHT OF BELL 12 CM (4.8 IN), DIAMETER 7.5 CM (3 IN)
Beautiful figural bell on which I now wish I had bid. The clapper and clapper hanger appear to be original,
and there is a wear groove where it has struck, but this is certainly not the original handle.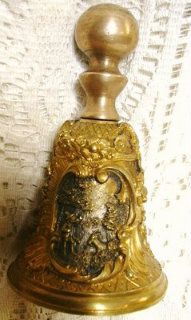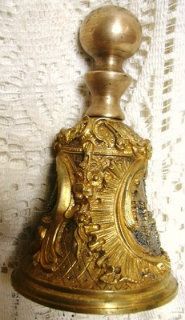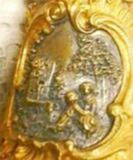 http://www.ebay.com/itm/360470720148?ssPageName=STRK:MEWAX:IT&_trksid=p3984.m1423.l2649
=================================================================================================