Re: Re: So, what is this worth? (Part 111)
June 18, 2012 at 7:33 pm
#15229
halanb
Participant
111a – Ancienne clochette de table en bronze tete du roi Louis Philippe caricature
Ancienne clochette de table en bronze caricaturant la tete du roi Louis Philippe
en le representant en forme de poire.
Objet de vitrine de qualité .
Hauteur 7.8 cm, largeur maxi 4.6 cm, poids 230 grammes.
Old bronze table bell with the head of King Louis Philippe caricature.
Old bronze table bell with a caricature head of King Louis Philippe
representated as pear-shaped.
Object of showcase quality.
Height 7.8 cm (3.1 in), maximum width 4.6 cm (1.8 in) , weight 230 grams (8 oz).
So, here's the story. Your name is Louis Phillippe, kind of a sissy name but, hey, you're French. It is 1831 and you have been king of France for one year. You are destined to be the last king, and the last of the Bourbon line stretching back almost 250 years. Yes, you do have a tiny weight problem (look like John Goodman on a bad day), and along comes some 21 year old punk kid (Honoré Daumier) just beginning his career, and making fun of you in political cartoons. The editor does spend six months in jail for "disrespecting his betters", but that is not much consolation. Then some guy comes along and makes this pear bell caricature. Ya just can't get no respect.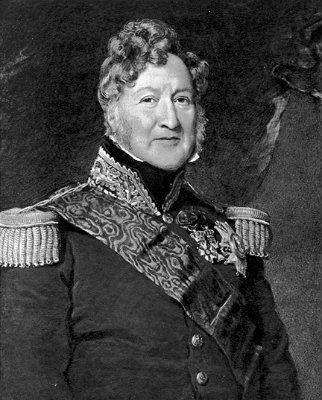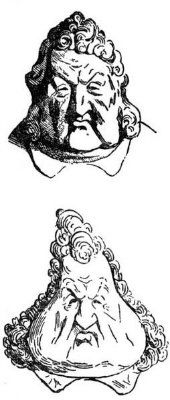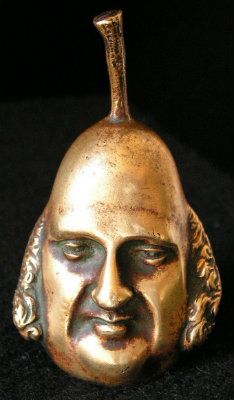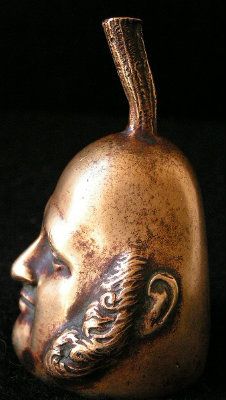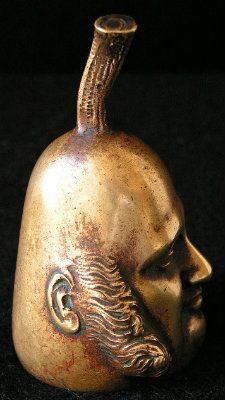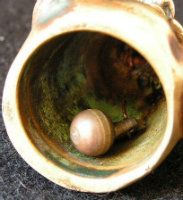 http://www.ebay.com/itm/170857096639?ssPageName=STRK:MEWAX:IT&_trksid=p3984.m1423.l2649
=================================================================================================
111b – Half Doll With Metal Table Bell
Unusual Half Doll made as a table bell.
Porcelain bust with a metal bell and a very detailed workmanship of a brass lace skirt.
Complete height about 13 cm ( 51/8″). The porcelain bust alone measures about 7 cm ( 23/4″).
Condition: No chips, no cracks. The left arm has a professional repair. One of the metal bobbles of her ribbon is missing.
Half dolls are just that–generally, the upper half of a human figure, without legs. Half dolls were produced without legs so that they could be attached to something useful–very commonly, pin cushions, but also whisk brooms, tea cozies, and numerous things that could grace a ladies dressing table, such as powder boxes. Occasionally they are found as bells.
The vast majority of Half Dolls were produced between 1900 and the 1920s, although some were produced earlier than that and some later. Some half dolls are still reproduced today. Most half dolls were produced in Germany, by firms such as Dressel & Kister, F. W. Goebel, Ernst, Bohne & Sohne, Heubach, Hertwig, Karl Schnider and many others. Japan also flooded the market with inexpensive models. Half dolls are often found unmarked, marked "Germany" or "Made in Germany", or with a four or five digit mold number. Models from Japan can be marked "Japan" or "Made in Japan." Only a few companies such as Dressel and Kister and Goebel would sometimes mark half dolls with their company's distinctive mark.
Most half dolls are between 2 and 6 inches tall, although there are smaller and also a few larger examples. Half dolls are generally made of porcelain (glazed bisque, sometimes called china) although there are also models made in unglazed bisque. Half dolls have also been made out of composition, wax, and many other materials.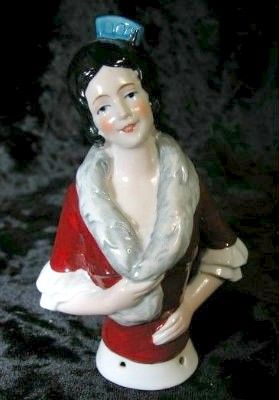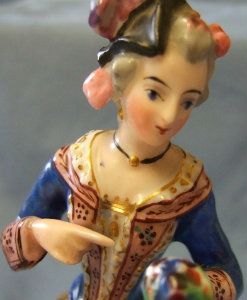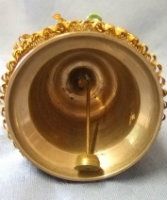 http://cgi.ebay.com/ws/eBayISAPI.dll?ViewItem&item=200772501725
=================================================================================================
111c – Antique SLEIGH BELLS Signed WEB William Barton LEATHER STRAP, Tag GEORGE TINKER
At the center of the 75" long by 2" wide strap are two large 2" petal bells separated by two of the 18 smaller bells, each 1 ½" in diameter. The two large bells are signed W.E.B. with a "running horse" opposite. The smaller bells are marked "5" but do not carry the mark "WEB" but are identical in design to the 2 big William E. Barton bells. Both brass buckles are stamped with the anchor mark used by "North and Judd" of New Britain, Connecticut, a company dating back to 1812.
Captain William Barton (Sr.) (1740?-1793?) a bell maker in Wintonbury (now Bloomfield), Connecticut as early as 1770; begat William Barton (Jr.) (1762-1849), also a bell maker but now located in East Hampton, Connecticut, from 1808 through 1826. His brothers Hubbard Barton (1797-1860), Hiram Barton (1799-1878) and Jason Barton (1808-1862) were all makers of bells along with one of Hiram's sons, John Watrous Barton (1835-1867). I'm sure they all begat others, but the important part is that Hiram also begat William E. Barton (1826-1895), the maker of the bells on this neck strap.
William Edward Barton only signed his petal bells, and he is the one who came up with the "running horse" logo. You could also have some fun reading about Buffalo Bill and his close relationship with the buckle makers, North and Judd. He commissioned them to make a bit with pistols on the cheeks. He was after N & J to hurry up since he had "a large number of cowboys who were waiting for them.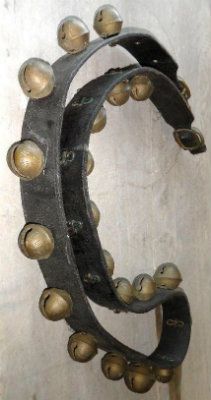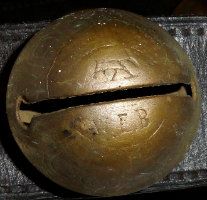 http://www.ebay.com/itm/110893435055?ru=http%3A%2F%2Fwww.ebay.com%2Fsch%2Fi.html%3F_sacat%3D0%26_nkw%3D110893435055%26_rdc%3D1
=================================================================================================