Re: Re: So, what is this worth? (Part 110d-f; now 11 pages)
June 11, 2012 at 2:20 pm
#15227
halanb
Participant
110d – VINTAGE ANTIQUE RARE LARGE BRASS TURTLE HOTEL DESK BELL SERVICE BELL HOP BELL
This brass turtle service desk bell is so unique. I am not sure of its age but I purchased it from an Estate of one our cities most affluent. I was told by the Estate dealer that the couple traveled extensively and that it sat on their desk for years. It is a very substantial large turtle bell that measures approximately 8" long X 5" diameter body X 4 ½" tall to the top of the bell plunger. The shell has lovely detail too. It's in excellent condition and is for the collector who loves those unique and one-of-a-kind pieces.
We have seen the Spanish BOJ and German windup mechanical turtle bells previously, some turtle bells with a twist mechanism, and one rigged as a bell push. This is a tap bell version.
Minimum information and maximum blarney.
"unique and one-of-a-kind"?
Nonsense! The bell may be uncommon, but hardly unique.
It would have been a commercial, not artistic, enterprise, and hundreds of copies cranked out.
http://www.ebay.com/itm/280893968101?ssPageName=STRK:MEWAX:IT&_trksid=p3984.m1423.l2649
=================================================================================================
110e – AMERICAN BRILLIANT CUT GLASS CRYSTAL SCARCE ANTIQUE BELL MONARCH J HOARE ABP
SCARCE AMERICAN BRILLIANT CUT GLASS DINNER BELL–CUT IN MONARCH PATTERN BY J HOARE–(SEE LAST PICTURE FROM THEIR CATALOG)–
J MICHAEL PEARSON RATES THIS PATTERN (4-4) (RARE & HIGH PRICED)
4 1/2 INCHES TALL BY 3 INCHES WIDE–
WELL EXECUTED PATTERN–FANCY NOTCHED AND FLUTED HANDLE–GREAT CONDITION–A SMALL DAB OF RUST WHERE THE METAL CHAIN IS ATTACHED TO THE HANDLE–(COMMON)–WONDERFUL EXAMPLE IN AN IDENTIFYED PATTERN –OFFERED AT NO RESERVE!
According to Al Trinidad,
"The Brilliant Period of cut glass in the United States, from the time of the Centennial in 1876 to about 1915, was a period in which many fine cut glass bells were produced in geometric patterns using lead glass. Overlapping this period was the Flower Period, from about 1906 to the 1920s, during which cut and engraved flowers and other natural subjects appeared on bells. At about the same time, less expensive pressed pattern glass bells were being made in imitation of the more expensive cut glass patterns."
Two examples of this bell by J. Hoare & Co. (Corning, NY) are shown on page 31 of Glass Bells. I would urge you to consult this book, and Al's other books for definitive information on glass bells.
Glass Bells (Schiffer Publishing Co., 2000)
Collectible Glass Bells Of The World (Schiffer Publishing Co., 2003)
American Glass Bells (Schiffer Publishing Co., 2010)
Glass Bells From Around The World (Schiffer Publishing Co., 2010)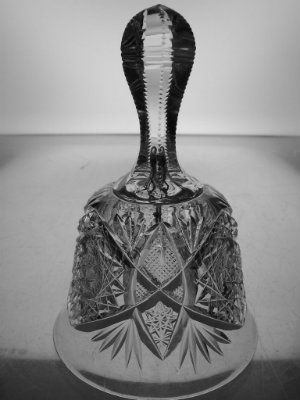 The sale price was quite reasonable.
http://www.ebay.com/itm/320892469066?ru=http%3A%2F%2Fwww.ebay.com%2Fsch%2Fi.html%3F_from%3DR40%26_nkw%3D320892469066%26_rdc%3D1
=================================================================================================
110f – RARE,ANTIQUE, FLINT GLASS BELL, BACARRAT CONNECTION..VERY SCARCE
RARE FRENCH FLINT GLASS BELL FOR SALE
EXTREMELY RARE AND HIGHLY COLLECTIBLE
THE BELL IS MADE FROM FLINT GLASS WITH A COLD PAINTED BRONZE RABBIT HANDLE AND CARROT CLANGER.
FRENCH AND DATES FROM CIRCA 1900
THERE IS LITTLE KNOWN ABOUT THESE BELLS BECAUSE THEY ARE RARE BUT THE NAME BACARRAT HAS BEEN MENTIONED BY COLLECTORS WHEN DESCRIBING THESE BELLS
THE BELL IS IN FANTASTIC, MINT , CONDITION, IT HAS NO CHIPS OR CRACKS OR DAMAGE OF ANY KIND, THE PAINTWORK ON THE COLD PAINTED BRONZE IS ALL INTACT. (EVEN THE RED EYES ON THE RABBIT/HARE IS PRESENT)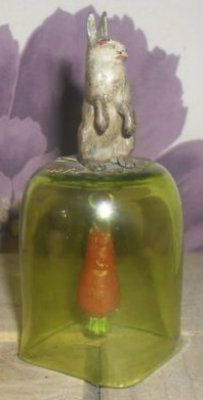 Relatively low price compared to many recent sales.
http://www.ebay.com/itm/140766446418?ru=http%3A%2F%2Fwww.ebay.com%2Fsch%2Fi.html%3F_from%3DR40%26_nkw%3D140766446418%26_rdc%3D1
=================================================================================================