Re: Re: So, what is this worth? (Part 109d-f)
June 7, 2012 at 2:00 pm
#15225
halanb
Participant
109d – Brass Lady Bell Table Bell Queen French Rococo Baroque Dress Ornament Vintage
This beautiful brass lady bell in the form of possibly a queen comes in excellent condition and would make a great addition to any bell or brass collection. This rare bell is one of the nicest I have come across!
She weighs 370g unboxed and measures approx 4.5 inches (11.5cm) high x 2.25 inches (5.5cm) wide.
By far the best of the four lady bells in this group, and the most elaborate with the Rococo design.
Wikipedia: Rococo, also referred to as "Late Baroque", is an 18th-century artistic movement and style, a reaction against the grandeur, symmetry and strict regulations of the Baroque, especially that of the Palace of Versailles. Rococo artists opted for a more jocular, florid and graceful approach to Baroque art and architecture. Rococo art and architecture in such a way was ornate and made strong usage of creamy, pastel-like colours, asymmetrical designs, curves and gold. Unlike the more politically focused Baroque, the Rococo had more playful and often witty artistic themes.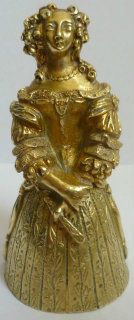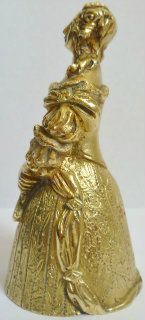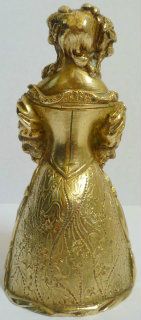 The following photos of Rococo costume are from paintings of Madame du Pompadour,
the third and last "official chief mistress" of Louis XV. According to the Queen, with
whom she was friendly, "If there must be a mistress, better her than any other."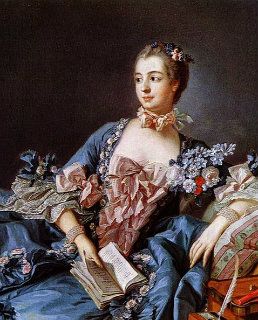 http://www.ebay.com/itm/320907293228?ssPageName=STRK:MEWAX:IT&_trksid=p3984.m1423.l2649
=================================================================================================
109e – Stunning Art Nouveau Dinner Gong
A fantastic Art Nouveau dinner gong. I am not sure of the material. it has certainly been plated as overcleaning has brought out a slight bronze/brass colour underneath. If you look at the flower patterns you will see. It shows a nice patination and is commensurate with it's age. There are some 'hallmark's on the rear, a letter E and a small makers mark. The dish has some small dents, from the gong!, and is showing a little wear throgh to the base metal. The overaal size is height 24 cms, depth 9.5 cms and width 19 cms All in all a classic piece of Art Nouveau decorative table funiture.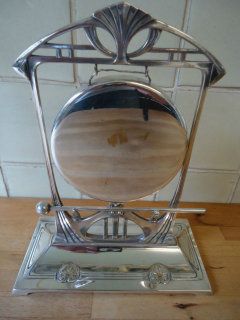 http://www.ebay.com/itm/110888866535?ssPageName=STRK:MEWAX:IT&_trksid=p3984.m1423.l2649
=================================================================================================
109f – Sonnette / interrupteur" singe" art déco WMF I/O en argent. fabrique Allemande.
Ancienne sonnette en forme de singe , signé WMF " Wurttembergisch Metallwarenfabrik " I/O: Argenture de qualité standard. art déco a partir de 1910. poids : 104.91 g longueur : 8 cm .en bel état. objet rare.
Bell / Bell push "monkey" Art Deco WMF I / O in silver. German manufacture.
Antique bell push in the shape of a monkey, signed WMF "Wurttembergisch Metallwarenfabrik"
I O: Silver-quality standard. Art Deco 1910. weight: 104.91 g length: 8 cm (3.2 in). In beautiful condition. Rare object.
Wikipedia: WMF is a tableware manufacturer, founded in 1853 in Geislingen an der Steige, Germany. In 1880, it merged with another German company and became known as the Württembergische Metallwarenfabrik. Around 1900, they were the world's largest producer and exporter of silver-plated household metalware, mainly in the Jugendstil, or Art Nouveau style. Items from this time are highly collectible and often expensive. The company is still in business, concentrating now in the commercial and hotel markets.
The hallmark places this item in the 1910-1918 period.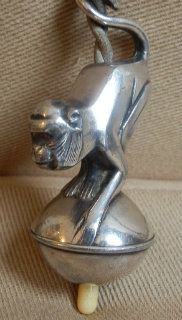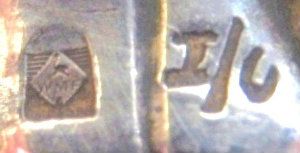 http://www.ebay.com/itm/251067896806?ssPageName=STRK:MEWAX:IT&_trksid=p3984.m1423.l2649
=================================================================================================