Re: Re: So, what is this worth? (Part 108d-f)
May 28, 2012 at 3:11 am
#15223
halanb
Participant
108d – VERY RARE LARGE ANTIQUE TUDOR QUEEN LADY BELL WITH LEGS CLANGER 1200 GRAMS!! CAST BRONZE QUEEN ELIZABETH 1ST
I BELIEVE THIS TO BE A VERY RARE ANTIQUE BRONZE BELL , A TUDOR LADY PERHAPS QUEEN VICTORIA THE 1ST WEARING A LARGE CROSS, VERY HEAVY APPROX 1200 GRAMS , MEASURES APPROX 17 CM IN HEIGHT BY 8.8CM IN DIAMETER. HER LEGS FORM THE CLANGER. CAST IN VERY GOOD DETAIL. WOULD LOVE TO KNOW FROM ANYONE WHO KNOWS MORE ABOUT THIS ITEM. THE LAST PHOTO IS ACTUALLY LIGHTER THAN IT SHOULD BE AS THE FLASH WENT OFF. IN VERY NICE CONDITION WITH A GREAT PATINA.
First she is misidentified as Queen Elizabeth, then as Victoria, but this bell represents Mary, Queen of Scots. Another of the early Pearson Page bells, c. 1920, good patina color, but made of brass, not bronze. The bell seems to lean to her right, as is common with this bell. It has a pair of leg clappers, but these are a late replacement and are much too light weight to give a good ring tone.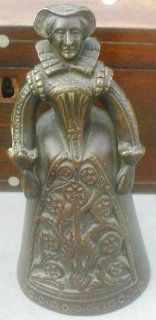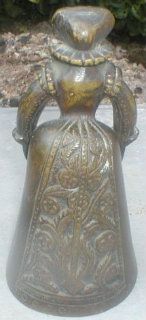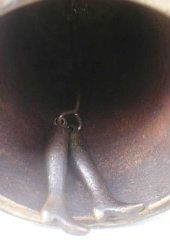 http://www.ebay.com/itm/320910704224?ssPageName=STRK:MEWAX:IT&_trksid=p3984.m1423.l2649
=================================================================================================
108e – A VERY LARGE CROTAL BELL MADE BY EDWARD SELLER OF YORK 1685-1760
4 INCHES DIAMETER. ATTACHED TO AN IRON STRAP. IN EXCELLENT CONDITION.
UNDER NO CIRCUMSTANCES WILL I SHIP OUTSIDE THE U.K. SO PLEASE DON'T ASK.
Seller Foundry – York, England
The first record is of 1662, when William Seller is mentioned as having a foundry in Jubbergate. William was succeeded by his son, Edward I, who, on his death in 1724, left the foundry to his sons, Richard and Edward II. Richard only survived his father by a few months, and Edward II ran the foundry alone until his own son, John, joined him in 1733. The two men worked together until the late 1750s, when Edward II retired and it was decided to close the foundry.
When the assets of the foundry were sold in 1761 and 1763, it is likely that Robert Wells of Aldbourne purchased the crotal bell patterns, as the products of the two foundries are virtually identical.
Bells marked 'ES' are attributed to Edward Seller I or II, or possibly both.
See Part 49a for information about Robert Wells.
A rare bell, good condition, and unusual size. I suspect the sale price would have been considerably higher if the seller had opened the sale to worldwide.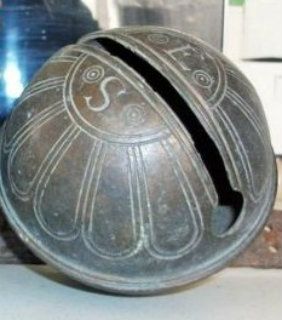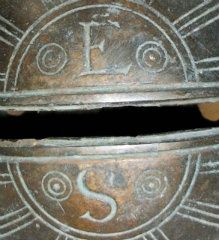 http://www.ebay.com/itm/170844337729?ssPageName=STRK:MEWAX:IT&_trksid=p3984.m1423.l2649
=================================================================================================
108f – VICTORIAN BRONZE CRAB DESK COUNTER RECEPTION SHOP BELL ANTIQUE FISH RESTAURANT
This is for one of the best shop counter bells i have had, i have had some unusual ones but this one is fabulous. It is from the Victorian era and made from bronze in the form of a crab. Maybe it once sat at the front of house in a fish restaurant rather than on a shop counter….who knows, i am guessing, but It has fabulous detail and i would imagine was made in Austria. The detailing is superb, very precise particularly around the legs and claws and it has little red inset eyes, what they are i dont know, maybe garnets, i am not sure. The button is placed in the centre of his back. It can be unscrewed from the base so can be re wired to use. It is in excellent condition with no damage to the crab at all and just surface wear to the bronze gilding. One of the screws underneath is not original but overall, what a superb bell. It measures an impressive 105mm (4″) across by 70mm (2.75″) and stands 40mm (1.5″) tall.
We have seen these previously, fitted as mechanical twist bells. This one is a push bell.
The picture of the bottom suggests to me that it once sat on a base (now missing).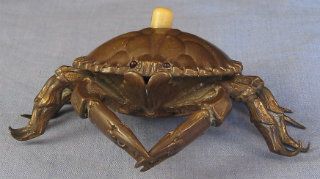 http://www.ebay.com/itm/330734711467?ssPageName=STRK:MEWAX:IT&_trksid=p3984.m1423.l2649
=================================================================================================