Re: Re: So, what is this worth? (Part 108a-c)
May 28, 2012 at 2:36 am
#15222
halanb
Participant
These first three items demonstrate the bargains that can be found in high quality bells by careful selection.
=================================================================================================
108a – LOVELY UNUSUAL LARGE HEAVY BRASS LADY BELL 5.5 inches
This is a really nice old unusual large brass lady bell standing 5.5 inches in height and 2.9 inches across the base.The lady is in period dress [ possibly 1700s ? ] and appears to be holding something in her right hand [ has a long handle and a net (?) at the end]. The bell has a good colour and patina and inside has the original iron hook for a clapper [clapper missing]. It is a heavy bell,weighing almost 700gm.
This is usually identified as Marie Antoinette, carrying a butterfly net, and dressed for rural activities at Le Hameau (pic 3). One of the early Pearson Page bells, c. 1920. (The sale price was a bargain.)
Wikipedia: The Hameau de la Reine, The Queen's Hamlet, is a rustic retreat in the park of the Château de Versailles built for Marie Antoinette in 1783 near the Petit Trianon in the Yvelines, France. Designed by the Queen's favoured architect, Richard Mique and with the help of the painter Robert Hubert, it contained a meadowland with lakes and streams, a classical Temple of Love on an island with fragrant shrubs and flowers, an octagonal belvedere, with a neighbouring grotto and cascade. There are also various buildings in a rustic or vernacular style, inspired by Norman or Flemish designed, situated around an irregular pond fed by a stream that turned the mill wheel. The building scheme included a farmhouse, (the farm was to produce milk and eggs for the queen), a dairy, a dovecote, a boudoir, a barn, a mill and a tower in the form of a lighthouse. Each building is decorated with a garden, an orchard or a flower garden. The largest of these houses is the "Queen's House" at the center of the village.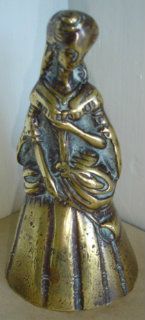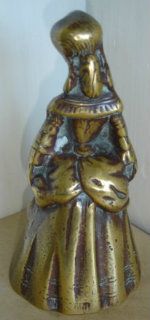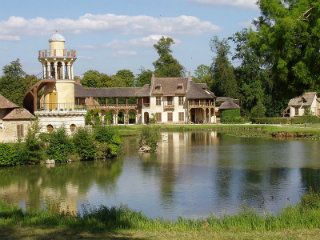 http://www.ebay.com/itm/390419356719?ssPageName=STRK:MEWAX:IT&_trksid=p3984.m1423.l2649
=================================================================================================
108b – EARLY 20thC ORIGINAL BRASS DESK COUNTER/SHOP BELL, c 1910-20s.
A GOOD EARLY FINGER STRUCK EXAMPLE…..WHICH WOULD HAVE STOOD ON THE DESK COUNTER IN A SHOP OR OFFICE RECEPTION…….THE STANDING BASE & BELL HAVING A BEE-HIVE RING DESIGN, ALONG WITH THE FINIAL & STRIKER……WHEN STRUCK , THE CLANGER HITS THE IN-SIDE…..MAKING A GOOD RINGING SOUND…….IN VERY GOOD ORIGINAL CONDITION….FREE FROM ANY DINGS OR DAMAGE……STANDING 3″1/2 HIGH…..THE BASE DIAMETER 3″1/4.
A beautiful tap bell, well made, and with the interesting beehive design. I have often found that the conical shaped bells have the best and most persistent tone. A bargain price, especially when compared to the repro junk that often sells for the same amount.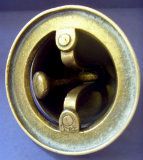 http://www.ebay.com/itm/160793698832?ssPageName=STRK:MEWAX:IT&_trksid=p3984.m1423.l2649
=================================================================================================
108c – Paire de Cloches de Table en Bronze Vieux et Vieille
Bel état manque un grelot. Hauteur 11 cm. Poids 1405 grammes.
Pair of Bronze Table Bells of an Old Man and an Old Woman
Good condition, but missing one clapper. Height 11 cm (4.4 in). Weight 1405 gm (~3 lb).
Often indentified as French peasants, this pair was another bargain, especially compared to the ridiculous prices paid for the bells in Parts 80b & 80c.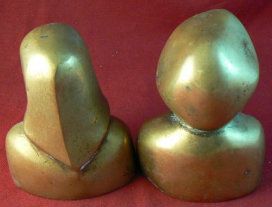 http://www.ebay.com/itm/150819392193?ssPageName=STRK:MEWAX:IT&_trksid=p3984.m1423.l2649
=================================================================================================