Re: Re: So, what is this worth? (Part 106)
May 16, 2012 at 1:58 am
#15220
halanb
Participant
106a – NAPOLEON : JOLIE CLOCHETTE DE TABLE.
Belle clochette en bronze à patine noire.
Elle représente Napoléon.
Joli son, beau ciselage, beau costume.
Dimensions : hauteur 10,7 cm, largeur maximum de la base 4,9 cm.
Poids : 0,350 kg environ.
En bon état, la patine noire ressemble plutôt à du vernis, elle est abîmée, à refaire, une trace verticale dans le dos dont la finition de l'objet n'est pas achevé mais cet objet est de tout de même de très belle qualité.
NAPOLEON: PRETTY TABLE BELL.
Beautiful bell bronze with black patina.
It represents Napoleon.
Nice sound, beautiful carving, nice clothing.
Dimensions: height 10.7 cm (4.3 in), maximum width of base 4.9 cm (2 in).
Weight: 0.350 kg.
In good condition, black patina is more like varnish, it is damaged, to repeat, a vertical line in the back where the finish of the object is not complete but this object is still of very good quality.
Most Napoleon bells are the small brass figurals, sometimes shoddy construction, often a souvenir of Waterloo. This is the most often seen figurine bell, though still relatively uncommon, and I was surprised that it did not sell at a higher price.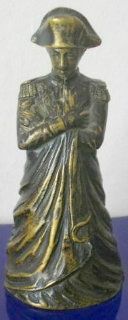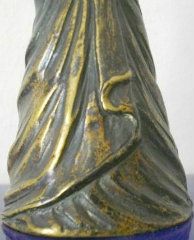 http://www.ebay.com/itm/140750945992?ssPageName=STRK:MEWAX:IT&_trksid=p3984.m1423.l2649
=================================================================================================
106b – Vintage Figural Double Hotel Desk Bell in Cast Iron
At auction is a beautiful figural double desk bell in painted cast iron. The paint is in Silver and Gold and in its original condition. The nickel on the bells is dull but almost complete with very little wear. The overall size of rhe item is about 7″x7″ with the diameter of the bell being about 3 1/2″.The ring is true and sharp. No breaks, cracks or chips to the casting. The scary side creatures and the crown on top are in perfect condition. A truly exquisite example of a vintage Victorian style hotel bell in original unrestored condition.
It always surprises me when sellers use a distracting background for their photos,
and then either do not see it or do not bother to replace it.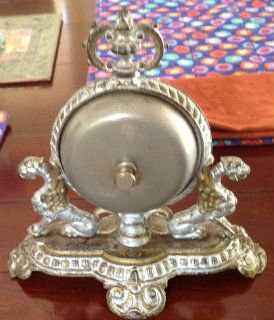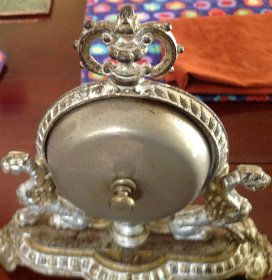 Sold in the normal price range.
http://www.ebay.com/itm/251057063113?ssPageName=STRK:MEWAX:IT&_trksid=p3984.m1423.l2649
=================================================================================================
106c – SUPERBE ET ANCIENNE SONNETTE DE TABLE OU DE COMPTOIR EN BRONZE 1844 DOUBLE EFFET
ANCIENNE SONNETTE DE TABLE EN BRONZE A DOUBLE EFFET DEUX TONS
Elle mesure 16cm de hauteur / 9,5cm de diamètre.
Il manque deux petites clochettes (celles qui sont accrochées autour de la sonnette voir photos).
Sous l'aigle une plaque ronde ou est noté Exposition 1844.
Elle est assez lourde et pèse 839 grammes.
Quand on appui sur l'Aigle la sonnette se déclenche et fait sonner la cloche du haut et quand on
relache la pression c'est la cloche du bas qui sonne ,le son est assez fort.
Les 4 dernières photos représentent l'intérieur rouillé qui empêchait la sonnette de fonctionner normalement.
Un petit nettoyage c'est imposé le mecanisme n'a pas été démonté il a juste été brossé et huilé et tout le reste n'a été touché ni nettoyé.
BEAUTIFUL AND OLD BELL TABLE OR COUNTER 1844 BRONZE DOUBLE ACTING
OLD BELL BRONZE TABLE, DOUBLE ACTING TWO-TONE
It measures 16cm in height / diameter of 9.5 cm.
It lacks two small bells (those that are hung around the doorbell see photos).
Under the eagle on a round plate is denoted Exhibition 1844.
It is quite heavy and weighs 839 grams.
When pressing the Eagle the bell goes off and rings the bell at the top, and when the pressure is released the lower bell rings; the sound is loud enough.
The last 4 pictures are rusty insides but the bell did function normally.
A small cleaning was done, nothing removed, it has just been brushed and oiled and everything else has been touched or cleaned.
These plunge bells with an eagle on top are seen fairly often on French eBay, and usually pass by without a sale. This one has the double action feature, supposedly works correctly, and has much applied decoration – all of which I guess contributed to what seems to me to be a high price. However, it is out of my normal range, and I must assume the bidders knew what they were getting.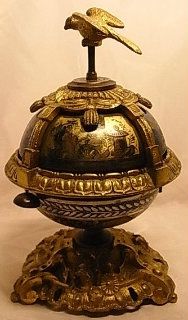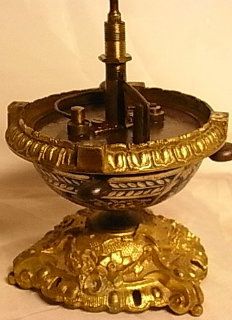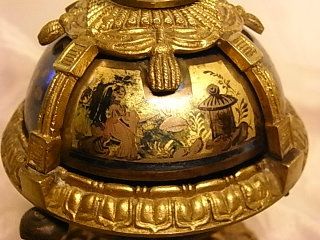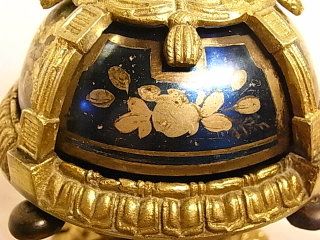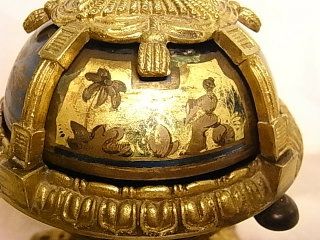 http://www.ebay.com/itm/110873641441?ssPageName=STRK:MEWAX:IT&_trksid=p3984.m1423.l2649
=================================================================================================