Re: Re: So, what is this worth? (Part 105)
May 11, 2012 at 3:17 am
#15218
halanb
Participant
105a – Bronze/Brass Lady bell Frog Queen
The size of the bell – 4 inches and 2.5 inches wide at the base.
One picture and a minimal description, yet apparently sufficient to attract several bidders.
This is another of the new bells coming from the former Soviet Union.
The ones from Ukraine are all good quality.
The ones from Russia, like this one, are from a variety of sources and more of a mixed bag.
This bell is attractive and seems well cast. Many of the other new lady bells are poorly made, so buyer beware. Many of them are falsely advertised as "rare" and sometimes as "antique", neither of which is true.
http://www.ebay.com/itm/261015619273?ru=http%3A%2F%2Fwww.ebay.com%2Fsch%2Fi.html%3F_sacat%3DSee-All-Categories%26_from%3DR40%26_nkw%3D261015619273%26_rdc%3D1
=================================================================================================
105b – RARE ANTIQUE AUSTRIAN BRONZE & ENAMEL BELL – CAT
ANTIQUE AUSTRIAN BRONZE TABLE BELL IN THE FORM OF A CAT AND HER KITTENS, SEATED UPON A CUSHION. THE CAT HAS LONG HAIR AND ITS HEAD NODS, WHICH IN TURN OPERATES THE DONGER WITHIN THE BELL. THE CATS TAIL ACTS AS A HANDLE.THE BELL DOME AS WELL AS THE CATS FACE IS COLD PAINTED. MEASURES 4.5 INCHES HIGH, IN VERY GOOD ANTIQUE CONDITION
Another of the Mama Cat bells that we have seen previously. They are bronze and sometimes with a gilt finish. Some are partially painted, but this one has the most paint of any that I have seen.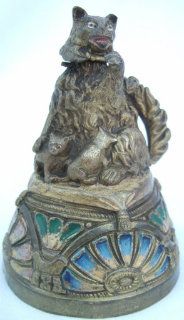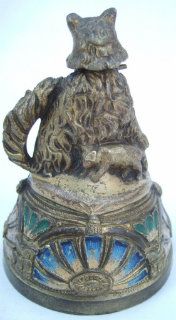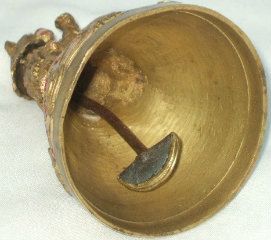 http://www.ebay.com/itm/120908782826?ssPageName=STRK:MEWAX:IT&_trksid=p3984.m1423.l2649
=================================================================================================
105c – 1880's Gamewell Fire Alarm Telegraph Oak Case Fire Alarm Gong Bell Original Key
This beautiful and very rare Telegraphic Fire Alarm Bell is complete with an internal mechanism that would have been activated by a telegraph or electrical signal. There is a wind up mechanism with origional key, that once activated by the signal, would cause the clapper to ring the 6″ exposed brass bell. The Box has a hinged door on the front with a glass panel which opens to reveal the internal mechanism and allows the operator to wind-up the gong mechanism. This door has a keyed lock at the left hand side, sorry no key for the door.
Up for auction is a VERY Rare and original, 1880's, Gamewell Fire Alarm Telegraph Co. Oak Wall Mount Telegraphic Alarm Bell with 6 inch brass Bell. This outstanding piece of early, telegraphic fire alarm equipment measures approx. 7 1/2″ wide by 15 1/4″ long and 4 1/4″ deep at the upper molding. The Alarm Box features a mounted, manufacturer's plate at the top which reads "Gamewell Fire Alarm Telegraph Co / New York"
Gamewell Manufacturing, a Massachusetts company, built and installed the first municipal electric fire alarm system in Boston using telegraph wires in 1852. I believe they were the largest manufacturer of this type of equipment, but they did have competitors like Moses Crane and Harrington. This is a combination electrical-mechanical device. Mechanically, it is a large windup bell. The electrical part is a trip device that allows the bell to be rung when a switch is closed some distance away.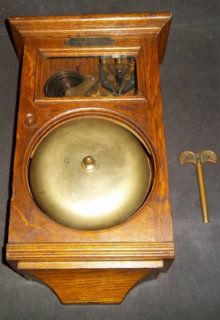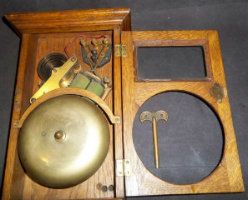 Pic 4 shows the square shaft by which the key can wind the coil spring clockwise, with a brass ratchet gear underneath. A pawl at upper right prevents the ratchet from unwinding. When power is applied to the green solenoids, they retract the pawl and allow the spring to unwind.
Pic 5 shows that the bell is struck with an internal hammer. A pivot device at lower left is driven by the spinning ratchet and both pushes the hammer against the bell and then retracts it.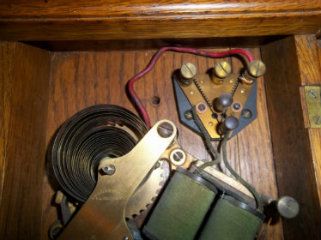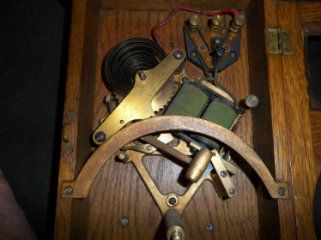 http://www.ebay.com/itm/180822100160?ru=http%3A%2F%2Fwww.ebay.com%2Fsch%2Fi.html%3F_from%3DR40%26_nkw%3D180822100160%26_rdc%3D1
These items are eagerly sought, but more often as fire collectibles than as bells.
Prices depend on size, condition, and when/where sold, but none are inexpensive.
With the Indicator Gongs, like the third picture, prices go through the roof.
Shown are a Gamewell 10″, $2000; Gamewell 15″, $3000; and a Gamewell 18″ Indicator, $10000.
By way of comparison, this complete 10″ bell from an early horse drawn fire wagon sold for "only" $2800.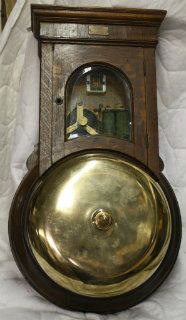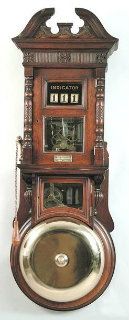 =================================================================================================