Re: Re: So, what is this worth? (Part 103a-c)
April 29, 2012 at 8:27 pm
#15090
halanb
Participant
103a – Brass Oast House Hop Kiln Lady Bell Table Bell Ornament Vintage
This brass bell in the form of an old Oast House comes in excellent condition and would make a great addition to any bell or brass collection. Its stamped The Old Oast House and weighs 145g unboxed.
It measures approx 3.25 inches (8.5cm) high x 1.75 inches (4.5cm) wide.
An oast, oast house or hop kiln is a building designed for kilning (drying) hops as part of the brewing process. They can be found in most hop-growing (and former hop-growing) areas and are often good examples of vernacular architecture. Many redundant oasts have been converted into houses.
They consist of two or three storeys on which the hops were spread out to be dried by hot air from a wood or charcoal-fired kiln at the bottom. The drying floors were thin and perforated to permit the heat to pass through it and escape through a cowl in the roof which turned with the wind. The freshly picked hops from the fields were raked in to dry and then raked out to cool before being bagged up and sent to the brewery. The Kentish dialect word kell was sometimes used for kilns ("The oast has three kells.") and sometimes to mean the oast itself ("Take this lunchbox to your father, he's working in the kell."). The word oast itself also means "kiln".
The earliest surviving oast house is that at Cranbrook near Tunbridge Wells which dates to 1750 but the process is documented from soon after the introduction of hops into England in the early 16th century. Early oast houses were simply adapted barns but, by the early 19th century, the distinctive circular buildings with conical roofs had been developed in response to the increased demand for beer. Square oast houses appeared early in the 20th century as they were found to be easier to build. In the 1930s, the cowls were replaced by louvred openings as electric fans and diesel oil ovens were employed.
Some people collect bells that depict buildings/monuments/structures.
This would be an interesting addition to such a collection.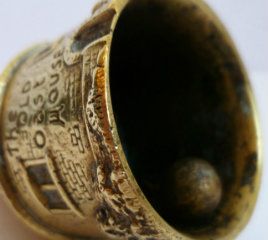 http://www.ebay.com/itm/320888671332?ssPageName=STRK:MEWAX:IT&_trksid=p3984.m1423.l2649
=================================================================================================
103b – Superb Antique Danish Solid Silver & Rosewood Table or Service Bell dated 1919
Superb Antique Danish Solid Silver & Rosewood Service or Table Bell by Grann & Laglye of Copenhagen
This Antique Danish Service or Table Bell measures approximately 2 1/2 inches or 63 mm across the width or diameter of its lower body and it stands 4 3/4 inches or 121 mm tall to the top of its handle.
The bell is made from 826 standard solid silver in a circular shape with a raised relief decorated lower rim with a step decorated body and it has silver mounted rosewood handle that has a ball shaped finial on the top, the bell has a brass internal ball and it has been engraved with a previous owners initials or family monogram, it weighs 112.3 grams and the upper body has been impressed with a full set of Danish 826 standard solid silver marks that include the assay masters mark C.F.H of Christian F. Heise along with the Copenhagen silversmith or makers mark of Grann & Laglye, it also has the three tower Copenhagen town mark that has the date number 19 for 1919.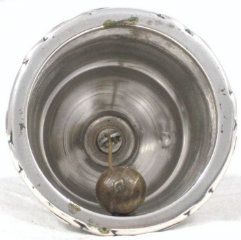 http://www.ebay.com/itm/380432350978?ssPageName=STRK:MEWAX:IT&_trksid=p3984.m1423.l2649
=================================================================================================
103c – GRANDE CLOCHE EN BRONZE FEMME XIXeme
Belle cloche de table en bronze d'une hauteur de 165 mm et d'un poids de 1,3 kg représentant une forte femme les mains dans les poches , portant une coiffe et arborant une croix , objet sans doute d'europe du nord .
LARGE BRONZE LADY BELL, XIX CENTURY
Beautiful bronze table bell with a height of 165 mm (6.6 in) and a weight of 1.3 kg (2.9 lb), representing a strong woman with her hands in her pockets, wearing a headdress and a cross, without doubt a person from Northern Europe.
The third picture shows a similar bell from the Anselm Lange auction in 2004.
That bell sold for 1140 euros.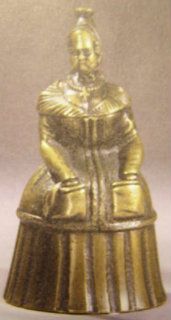 http://www.ebay.com/itm/140741305378?ssPageName=STRK:MEWAX:IT&_trksid=p3984.m1423.l2649
=================================================================================================