Re: Re: So, what is this worth? (Part 102)
April 24, 2012 at 4:35 am
#15216
halanb
Participant
102a – Two Fine Qing Chinese Enamel Items. A Silver on Copper Bell and a Beautiful Dish
Two beautiful Chinese enameled items. They date to the late nineteenth or early twentieth century.
The bell is beautiful and the tray is beautiful and they are in great condition. The bell measures 5″ high
and the tray measures 4″ wide.
Outside my usual area and I cannot comment on this bell, but I include it to have one of these popular items represented. Note that there is a bonus feature – an enamel dish.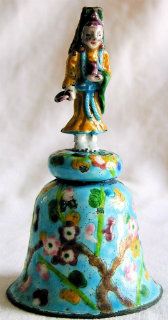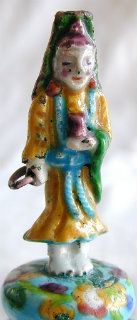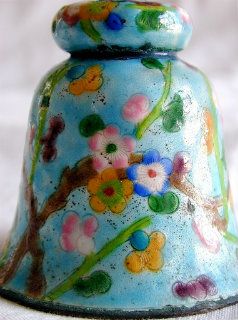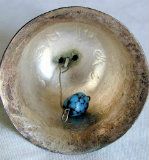 http://www.ebay.com/itm/190667887468
=================================================================================================
102b – ANTIQUE WIND-UP FIGURAL TURTLE W/SHELL TABLE OR HOTEL BELL GOLD INLAY WORK
OFFERING THIS VERY OLD ANTIQUE FIGURAL WIND-UP TURTLE TABLE OR HOTEL BELL MADE OF METAL WITH GOLD INLAY WORK. BY THE WORK ON THE SHELL I WOULD GUESS THIS IS SPANISH MADE PROBABLY TOLEDO. HAS NO MAKERS MARK SO THIS PRE DATES THE ONES THAT DO. THIS SHOWS GREAT SIGNS OF AGE AND IS IN GOOD WORKING ORDER. YOU WIND IT UP AND YOU CAN PRESS EITHER THE HEAD OR TAIL OF TABLE TO OPERATE. MEASURES ABOUT 4 1/2″ LONG X 2″ TALL. IT IS MISSING TWO SCREWS AS YOU CAN SEE IN MY PICTURES.
Unusual in that:
(1) the shell sits much higher than ones we have previously seen, but it seems to have been attached as originally intended, and
(2) it sold for a lower price than most of these.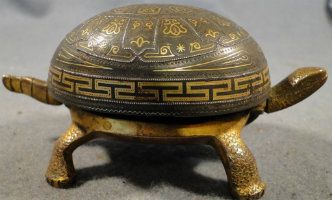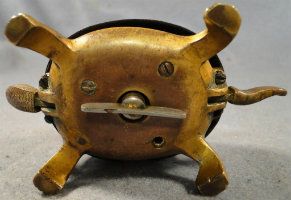 http://www.ebay.com/itm/230777445648
=================================================================================================
102c – Antique Metal Figural Figurine Figure CRAB Hotel Desk Bell
Item in good condition for the age nice condition as seen original item, crab missing back leg probably came off in a crab trap…. really now this is a most unique item I have never seen another, it does work when pressed to shut off you have to pull lever up as seen below in the video I have included, as it neat piece, could use a little tlc, may be a missing bit in front but I have no idea what it was.
Approx 2 1/2″ tall x 5″ wide.
We saw one one of these in Part 99b. That one either had the mechanism jammed or entirely missing.
This one seems to have a (mostly) working mechanism, but has some missing parts.
Maybe one day we will encounter one in pristine condition?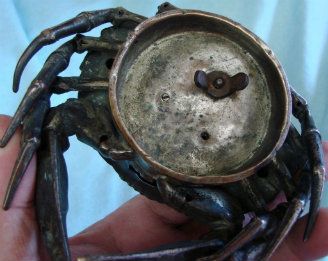 http://www.ebay.com/itm/350558193602
=================================================================================================