Re: Re: So, what is this worth? (Part 100a-c)
April 13, 2012 at 2:02 am
#15212
halanb
Participant
Finally, a group of 'standard' figurine lady bells and a group of figural bells.
=================================================================================================
100a – cloche bronze vieille femme et son chien
Belle cloche en bronze représentant une vieille femme et son chien épagneul papillon. Les détails sont précis et vifs.
La tête a été réalisée à part et s'insère dans le haut du corps
Poids 444 gr.
11 cm de hauteur
Il manque le battant.
bronze bell old woman and her dog
Beautiful bronze bell of an old woman and her dog Papillon. The details are precise and vivid.
The head was cast separately and fits into the upper body
Weight 444 gr (16 oz).
Height 11 cm (4.4 in)
It lacks the clapper.
Many viewers will recognize the so-called Old Mother Hubbard nodder. The counterweight is missing,
not uncommon, but it was a relative bargain Buy-It-Now for an alert bidder.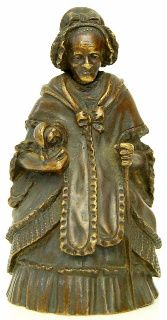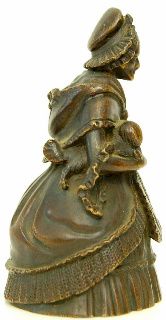 http://www.ebay.com/itm/160779405639
=================================================================================================
100b – RARE LARGE ANTIQUE VINTAGE SOLID BRASS LADY FIGURE BELL marked AVE
RARE LARGE ANTIQUE VINTAGE SOLID BRASS LADY FIGURE BELL marked AVE.
A fabulous large Original Vintage Solid Heavy Brass Bell in the form of a lady.
At the base are some markings which look like REGITERED THE AVE.
It is complete and has no damage and no restoration. A great piece. Size 19.3cm height (7.7 in).
Not much information, and some of it incorrect. The base is marked "REMEMBER EDITH CAVELL". Many bidders probably either knew this or were attracted by the unusual height.
Edith Louisa Cavell (4 December 1865 – 12 October 1915) was a British nurse and patriot. She is celebrated for saving the lives of soldiers from all sides without distinction and in helping some 200 Allied soldiers escape from German-occupied Belgium during World War I, for which she was arrested. She was subsequently court-martialled, found guilty of treason and sentenced to death. Despite international pressure for mercy, she was shot by German firing squad. Her execution received worldwide condemnation and extensive press coverage.
To be fair, she was also a useful propaganda figure for the allies, both to inspire British soldiers and to encourage the USA to enter the war. Souvenir items, like this bell, were rushed into production.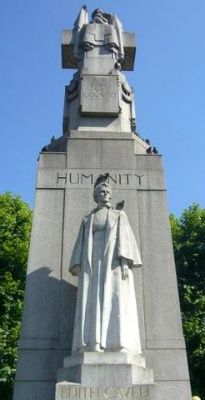 http://www.ebay.com/itm/320882979453
=================================================================================================
100c – Rare Hanau Sterling Silver Figural Bell…Hessian Nobleman in Ceremonial Dress
The bell depicts an 18th Century Hessian Nobleman wearing his ceremonial dress.
The bell is made of heavy gauge .925 sterling silver . The bell's details are quite spectacular.
Hallmarks are clearly visible. There is the English import mark, ca.1897, and that of Berthold Muller.
The maker's mark is for B. Neresheimer and Sohne…prestigious Hanau silversmiths.
Neresheimer is considered to be the finest and most collectible of Hanau silversmiths.
Certain of their works sell for tens of thousands of dollars in prestigious auctions.
The bell is approximately 3.1/4″ tall and 1.7/8″ in diameter at its base.
The weight is 88 grams of thick gauge sterling.
The bell's condition is excellent. The ringer is original. Its sound is superb.
Pertinent information, but also somewhat of a hard sell for this small 3″ bell.
I was doubting that it would sell at this price, but it did attract one bid at the end.
(Okay, not really a lady bell – a guy in a dress, but that's his problem.)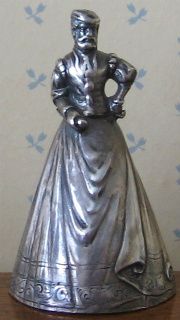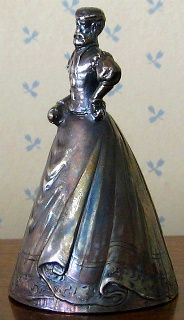 http://www.ebay.com/itm/260997652341
=================================================================================================