Re: Re: Cow bell – souvenir, award ???
January 30, 2010 at 4:43 pm
#15604
Anonymous
Inactive
ABA member Kurt Rothmann in Germany sends this information and these photos. He writes:
In case it is still of interest for your "Bell Talk" friends, I can give you the complete address of the bell founder Berger. Decka had asked for information about him in Jan. 02, 2010.

Glockengiesserei Berger
Baeraustrasse 6
CH-3552 Baerau in Emmental
Switzerland

I found the foundry Berger accidentally passing by driving in Switzerland in May 2005. I visited it and took the enclosed photos. (Photo 1412 is showing my car parked in front of the foundry.) One year later, I got the enclosed flyer scan0001 advertising the imitation of an old bronze bell in reduced scale produced by Berger.

The letter combination as in the word Baerau stands for the letter "a"-Umlaut of the German language that means an "a" with two dots on it. This letter is part of the firm logo Baetrau. See the photo of it Decka has shown in his email from Jan. 5.

The flyer contains the web address of Berger, too: http://www.swissbells.com and the email address.

I would like to use this chance to mention a book of interest for collectors of Swiss Cow Bells: it is the book

Treicheln, Schellen, Clocken

published by our Swiss ABA member, Robert Schwaller in 1995. According to him, the Bergers were the first producers of clocks starting in 1730. They opened later a bell foundry in 1790. In the year 1959, a new foundry in a new building opened on Baerau Street, where it is still working today.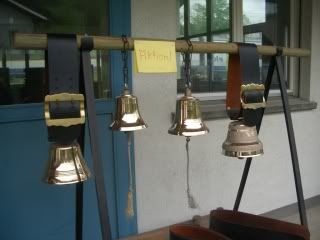 This brochure is written in German.
Thank you, Kurt, for sharing this valuable information with us!